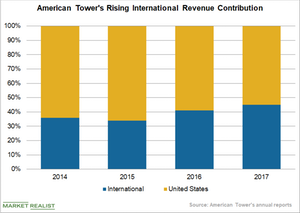 What American Tower's Global Expansion Strategy Indicates
Going global
American Tower's (AMT) global expansion strategy, which includes acquisitions and joint ventures in several countries (mainly in developing nations), is likely to continue supporting its top line. The approach has lowered the company's dependence on the US market and paved the way for it to enter new and fast-growing telecom markets.
The company's international revenue contribution rose from 36% in 2014 to 45% in 2017. During the first quarter, the company's international revenue grew ~11% year-over-year.
With its acquisition strategy, the company added 4,928 communication sites in 2017. Furthermore, American Tower completed the buyout of 10,200 tower assets from Vodafone India, expanding its total number of towers to 160,000, of which 40,000 are located in the United States.
Article continues below advertisement
American Tower increased its international tower assets to 109,000 at the end of 2017 from a mere 60,000 at the end of 2015. As for capital expenditure, the company plans to continue investing in acquiring and building assets. In Q1 2018, the company spent ~$700 million, or over half of its total capital deployed, on acquiring assets globally, particularly in India. American Tower expects its capex to be $250 million–$290 million this year, to construct 2,500–3,000 communication sites.
American Tower's acquisitions
American Tower entered into an agreement to acquire transmission towers from Telkom Kenya in May, marking its entry into a 17th market worldwide, and its entry into a fifth African market. The acquisition could help American Tower capitalize on the country's growing mobile broadband services.
By acquiring Vodafone India's assets and completing its pending transaction with Idea, American Tower is set to become one of the largest communication sites and tower providers in the Indian market. Over the last few years, the Indian market has seen huge mobile and Internet penetration, driving data traffic. However, its network infrastructure is still not ready to cope up with the rising demand, providing a huge long-term growth opportunity for American Tower.
The Real Estate Select Sector SPDR ETF's (XLRE) largest exposure is to American Tower stock, which comprises 9.51% of XLRE. The company's main competitors, Simon Property (SPG), Crown Castle (CCI), and SBA Communications (SBAC) have weights of 8.03%, 6.88%, and 2.86%, respectively, in the ETF.