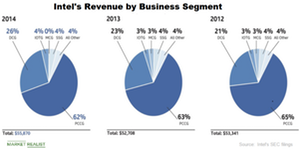 The Role of Intel's Leadership in Transforming the Company
Intel's future depends on strong leadership 
The abrupt departure of Intel's (INTC) chief executive officer, Brian Krzanich, has raised some questions about its direction. Intel depends on strong executive leadership. In its 50 years of operation, the company has only had six CEOs, and all of them have taken leadership roles after several years with the company.
When Krzanich became Intel's CEO in 2013, the company was facing a declining PC market, which had contributed more than 60.0% to its revenues. The challenge ahead of Krzanich was to transfer Intel from a PC-centric company to a data-centric company.
This isn't the first time that the company's CEO has faced such an issue. A June 25 article in Stratechery detailed Intel's leadership history.
Article continues below advertisement
Andy Grove's leadership
The Stratechery article stated that Intel was faced with an even more difficult situation in the 1980s when it was a DRAM (dynamic random access memory) manufacturer. At that time, Japanese manufacturers entered the DRAM space and commoditized the product. As a small player, Intel couldn't compete on price and saw losses for the first time in 1986. At that time, Intel had the industry's best microprocessor designs.
After serving as Intel's president since 1979, Andy Grove took the role of CEO in 1987. He transformed the company from a memory manufacturer to a microprocessor manufacturer by partnering with IBM (IBM), the world's largest PC maker.
Krzanich's leadership
When Krzanich took over as Intel's CEO, it was already a leader in the microprocessor technology and had strong profits and cash flows. However, its cash-cow PC business was declining, its reliance on high-end server processors was growing, and it had no presence in the fast-growing mobile space.
For the first time, Intel fell behind Advanced Micro Devices (AMD) in terms of manufacturing nodes. Intel is also behind NVIDIA (NVDA) in the fast-growing artificial intelligence and autonomous vehicle markets. Some tech articles point to Intel's integration model for this technology gap. We'll look into this topic in the next article.
Check out all the data we have added to our quote pages. Now you can get a valuation snapshot, earnings and revenue estimates, and historical data as well as dividend info. Take a look!