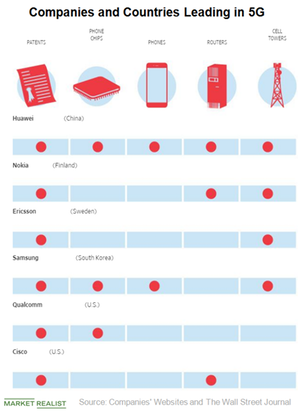 Qualcomm Set to Face Competition in the 5G Space
Qualcomm accelerates in the 5G space
If Qualcomm (QCOM) loses its chance to acquire NXP Semiconductors, its strategy to grow beyond smartphones into embedded and automotive could take the back seat, and it may be pressured to settle its licensing disputes with Apple. Amid these issues, Qualcomm has been continuing its efforts toward grabbing growth opportunities in the 5G (fifth-generation) technology space, where it is ahead of competitors. Its Snapdragon X50 5G New Radio modem has been selected by several handset makers to power their forthcoming 5G phones.
Article continues below advertisement
Competition intensifies in the 5G space
Qualcomm is slowly losing its licensing dominance, as China's (MCHI) Huawei has built a modem and Intel (INTC) is accelerating its efforts in the modem business. In June, Huawei announced that it, along with Intel and China Mobile, had completed its multivendor 5G interoperability and development testing, which could accelerate global commercialization of end-to-end 5G systems. According to ZDNet, Intel Next Generation and Standards vice president Asha Keddy stated that the company plans to launch its 5G multimode chipsets in commercial devices by 2019.
The growing competition in 5G could reduce Qualcomm's technological advantage, which forms the basis of its licensing business. Although 5G presents a strong growth opportunity for Qualcomm, its benefits may be reduced as strong competition pressures pricing. However, it is too soon to thoroughly analyze the possibilities and challenges in 5G.
Amid these economic, regulatory, and competitive hurdles, Qualcomm is facing organizational and business challenges. It is facing pressure from investors to cut costs, which is stalling its organic efforts to expand in the adjacent server and PC processor markets, which we'll discuss next.
Check out all the data we have added to our quote pages. Now you can get a valuation snapshot, earnings and revenue estimates, and historical data as well as dividend info. Take a look!