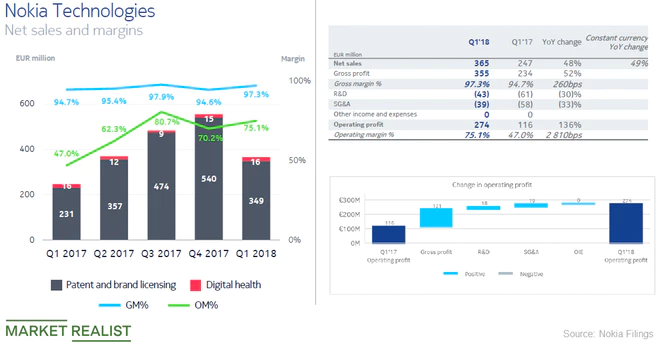 Nokia Stock Has Risen 28% in H1 2018
Nokia's stock performance
Nokia (NOK) stock generated returns of 28.0% in the first half of 2018. The stock closed at $5.75 on June 29. Nokia beat its earnings estimates in the fourth quarter of 2017 by 36.0% and reported earnings 50.0% below estimates in the first quarter. Analysts have a median price target of $6.20 for Nokia, which indicates that the stock is trading at a discount of 8.0% to analyst estimates.
Article continues below advertisement
Growth drivers
Similar to its networking peers Juniper Networks (JNPR), Cisco Systems (CSCO), and Ericsson (ERIC), Nokia is also banking on 5G to be a future growth driver. In early 2018, Nokia announced a partnership with NTT DoCoMo (DCM) in the 5G (fifth-generation) space. Nokia's 5G team also claims to have made an end-to-end call using the commercial 5G New Radio.
Cisco Systems gained market share in 4G by targeting emerging economies and customers such as Mexico's ALTAN Redes, Brazil's TIM, and China Unicom (CHU). The company is optimistic about an improved market environment for its Networks segment in the second half of 2018.
Nokia has also exited the digital health sector and expects its Licensing business to gain traction. In the first quarter, Nokia's Technologies revenues rose 48.0% YoY to $365.0 million. Further, the company has estimated opportunities in licensing to result in revenue growth of 10.0% between 2018 and 2020 in Nokia Technologies.
Analysts expect Nokia's revenues to rise 0.6% YoY to ~$26.3 billion in fiscal 2018 and to rise 3.0% YoY to $27.0 billion in fiscal 2019. The company's earnings per share are estimated to fall 24.0% to $0.28 in fiscal 2018 and rise 36.0% to $0.38 in fiscal 2019.