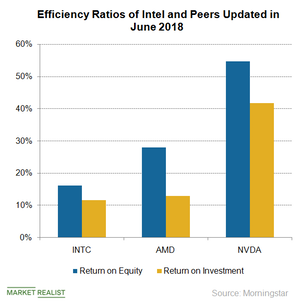 Intel's Struggle in Emerging Markets Impacts Its Efficiency Ratio
Intel's efficiency ratios
Although Intel (INTC) is still a leader in traditional computing, it's struggling to compete in the emerging markets of AI, automotive, and 5G. In order to accelerate its progress in these areas, the company made two major acquisitions—Altera and Mobileye—over the past few years. Moreover, the company is investing heavily in manufacturing nonvolatile memory products.
These long-term investments have yet to deliver the returns expected from them. These investments have reduced Intel's efficiency ratios, which reflect its management's efficiency in delivering higher returns from lower investments.
Article continues below advertisement
Return on investment
A company's ROI (return on investment) measures the income it earns on a certain level of investment. Long-term investors and companies use ROI to compare investment opportunities and identify the opportunities that generate the highest returns. ROI is subject to a company's capital structure.
In the first quarter, Intel had an ROI of 11.7%, which was lower than Advanced Micro Devices' (AMD) 12.9% and NVIDIA's (NVDA) 41.72%.
Return on equity
A better measure for Intel's shareholders is ROE (return on equity), which shows the profit a company can generate from shareholder capital. In the first quarter, Intel had an ROE of 16.19%, which was lower than AMD's 27.94% and NVIDIA's 54.65%.
NVIDIA has higher returns because it has the most advanced GPU (graphics processing unit) technology, and it's the preferred GPU for AI, gaming, and autonomous driving. High demand and a lack of strong competition allow NVIDIA to command a higher price for its products.
AMD has also improved its returns by entering the high-end PC and server processor market, bringing itself back to profits. It's competing with Intel on price performance, and Intel is facing pricing pressure in the traditional market. AMD is facing a technology disadvantage in emerging markets, which has significantly reduced its returns. Intel's new CEO is expected to face the challenge of improving the company's returns.
Check out all the data we have added to our quote pages. Now you can get a valuation snapshot, earnings and revenue estimates, and historical data as well as dividend info. Take a look!