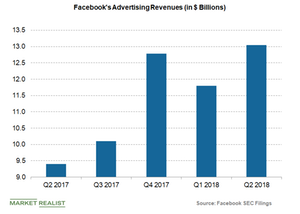 How Much Revenue Is Facebook Earning from Advertising?
Facebook's ad revenues
Facebook (FB) generates the majority of its revenues from the advertising business, and the second quarter was no exception. Facebook's advertising business posted second-quarter revenues of $13.0 billion, which grew 42.0% YoY (year-over-year). Notably, Facebook's advertising revenues contributed ~98.5% of the total revenues in the quarter.
Like Facebook, rivals Twitter (TWTR), Snap (SNAP), Yelp (YELP), and Alphabet's (GOOGL) Google also look to advertising sales for the majority of their revenues. In the second quarter, Facebook's ad sales increased 42.0% YoY, faster than Google's ad sales growth of 23.9% YoY.
Article continues below advertisement
Emphasis on mobile advertising
Facebook is making efforts to expand its mobile advertising, which comprises 91.0% of the total advertising revenues—up from ~87.0% of advertising revenues in the second quarter of 2017. The company has been investing in hiring to expand into the mobile advertising business, and its total headcount increased 47.0% YoY to 30,275 in the quarter.
Social media companies under scrutiny
Social media companies have been under scrutiny since January 2017. At the time, US intelligence agencies revealed that social media platforms such as Facebook, Twitter, and Google were used by Russian propaganda groups to influence the 2016 US presidential election.
Facebook was recently entangled in the data leak scandal after Cambridge Analytica collected the private information of ~87.0 million Facebook users without their permission. In May, the European Union enforced a new privacy law called General Data Protection Regulation (or GDPR) to crack down on these data practices.
Facebook reportedly suffered a blow when Chinese regulators withdrew their approval of a company innovation hub to support local startups.