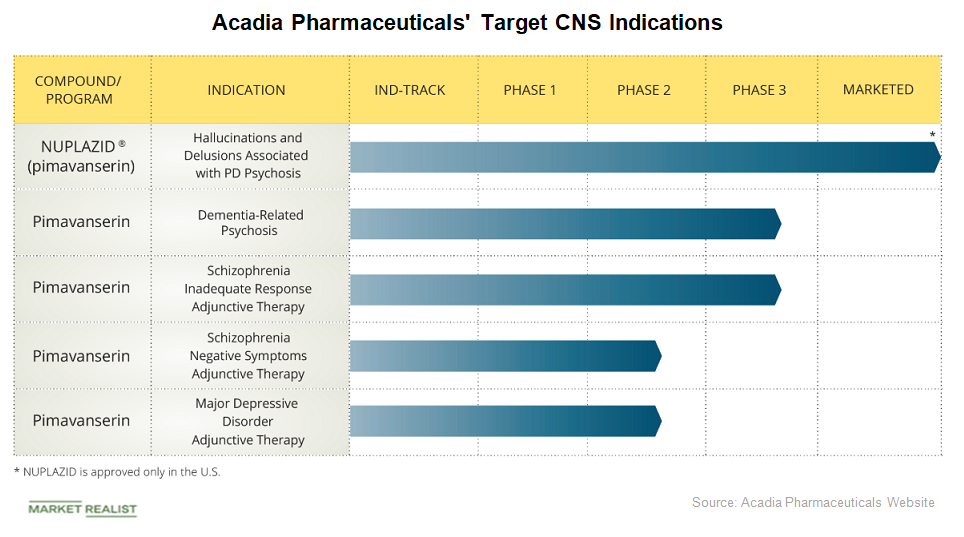 Exploring Acadia Pharmaceuticals' Promising Research Pipeline
Research programs
Acadia Pharmaceuticals' (ACAD) Nuplazid (pimavanserin) is commercialized in the US market for the treatment of hallucinations and delusions related to Parkinson's disease psychosis. The company believes that it has the potential to avoid many of the side effects of existing antipsychotics, none of which have been approved by the FDA.
Acadia Pharmaceuticals also believes that the drug can potentially address key medical needs in neuropsychological and psychiatric disorders in addition to Parkinson's disease psychosis.
Article continues below advertisement
Article continues below advertisement
Alzheimer's disease psychosis
Acadia Pharmaceuticals' key target area is Alzheimer's disease. In December 2016, Acadia Pharmaceuticals announced positive top line results from its Phase 2 study of pimavanserin for the treatment of Alzheimer's disease psychosis. Following the end of this study and an agreement for a clinical development plan with the FDA, Acadia Pharmaceuticals began its Phase 3 relapse prevention study, called Harmony, in October 2017 to evaluate pimavanserin for a broader indication than just Alzheimer's disease psychosis. The drug has been granted a breakthrough therapy designation by the FDA for dementia-related psychosis indications.
Schizophrenia
Acadia Pharmaceuticals is also evaluating Pimavanserin for the treatment of schizophrenia. In the fourth quarter of 2016, Acadia Pharmaceuticals began two studies to evaluate the adjunctive use of pimavanserin in patients suffering from schizophrenia. Enhance is a Phase 3 study evaluating the drug for adjunctive treatment in patients with schizophrenia and an inadequate response to their current antipsychotic therapy, and Advance is a Phase 2 study evaluating the drug as an adjunctive treatment in patients with negative symptoms of schizophrenia.
Additionally, pimavanserin is being evaluated for the treatment of depression in Acadia Pharmaceuticals' Phase 2 study called Clarity, the top line results of which are expected in the second half of 2018.
In a major development, the company announced the FDA's approval of a new capsule dose formulation and a new tablet strength for Nuplazid on June 29. This development is expected to reduce the patient pill burden from the current regimen of two 17 mg tablets daily to one 34 mg tablet daily.