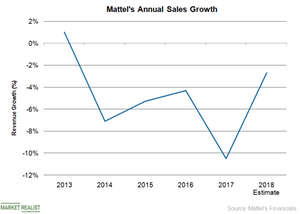 Can Mattel's Growth Strategies Revive Its Sales?
What's hurting Mattel?
Mattel (MAT) has been struggling to reverse its declining sales trend. Apart from consumers' changing preferences and Toys "R" Us filing for bankruptcy, Mattel has many company-specific problems like underperforming brands and rising freight and distribution costs.
Mattel reported a sales decline of 7.1%, 5.3%, 4.3%, and 10.5% in 2014, 2015, 2016, and 2017, respectively. For the first quarter, the company's sales fell 4% to $708.4 million. Weak sales for the Toy Box, Fisher-Price, Thomas & Friends, and American Girl brands and the impact of Toys "R" Us going out of business led to lower sales in the first quarter.
Article continues below advertisement
Article continues below advertisement
Mattel's growth strategy
To reverse lower sales, Mattel is working to develop its power brands—Hot Wheels, American Girl, Barbie, Fisher-Price, and Thomas & Friends—into 360-degree connected systems of play and experiences. For Hot Wheels, the company expects 2018 to be a strong year. In 2018, Mattel is focusing on Hot Wheels' 50th anniversary.
Mattel is also focused on product innovation and strengthening its partnerships. Mattel wants to reduce innovation cycles to six to nine months—compared to the usual 18 months. Mattel is expanding its distribution by focusing on online and omnichannel capabilities.
Mattel wants to boost its operations in international markets to drive the top line. Mattel plans to have a special emphasis on digital. Mattel is eyeing Chinese markets as well as Indonesia and India.
Mattel launched the Structural Simplification program to save ~$650 million over the next two years by streamlining manufacturing and marketing costs and optimizing stock keeping units. The company expects to achieve 40% of the targeted $650 million savings in 2018. However, most of the savings are expected to be achieved in later in the year.