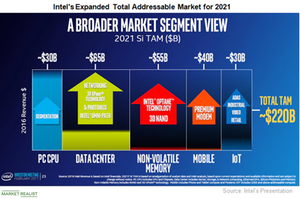 Can AMD Compete with Intel in the Server CPU Market?
AMD and Intel in the server CPU market
Advanced Micro Devices (AMD) and Intel (INTC) operate in an oligopoly server CPU (central processing unit) market where one's gain is the other's loss. According to a CNBC article dated June 11, 2018, Nomura Instinet analyst Romit Shah stated that Intel's former chief executive, Brian Krzanich, in a recent meeting "indicated that it was Intel's job not to let AMD capture 15-20% market share."
Intel owns almost a 100% share in the server CPU market and has been banking on this market to drive earnings as the PC market demand falls. Intel earns over 30% revenue from the data center segment, which has been reporting around 20% YoY (year-over-year) growth over the last two quarters. Intel believes that AMD might take some server CPU market share. Even AMD expects to achieve mid-single-digit server CPU market share by the end of 2018.
Article continues below advertisement
Quantifying market share into earnings
In 2017, Intel's data center revenue was $19.06 billion, of which $17.44 billion came from server CPUs. If Intel owns 99% of the server CPU market, this means even a 5% market share would add $880 million and a 15% market share would add $2.6 billion to the annual revenue of AMD's Enterprise segment.
However, AMD calculates its market share in terms of units and not revenue. Moreover, AMD's EPYC is cheaper than Intel's Xeon. Thus, Intel's data center revenue would not be significantly impacted if AMD earns some market share.
Intel's data center strategy
In an email to CNBC, Intel stated that it has already factored growing server competition into its forecast. It also highlighted that its estimated $70 billion data center opportunity goes beyond server CPUs to other silicon products such as networking, 3D XPoint memory, and silicon photonics.
Even AMD is expanding its server processor offerings to tap the AI (artificial intelligence) data center opportunity. We'll look into this next.
Check out all the data we have added to our quote pages. Now you can get a valuation snapshot, earnings and revenue estimates, and historical data as well as dividend info. Take a look!