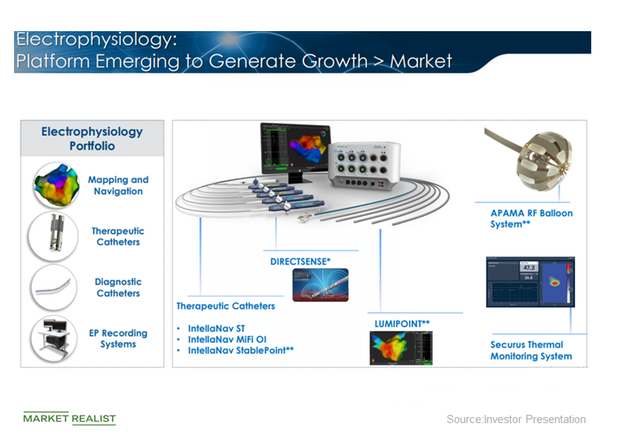 Boston Scientific Expands Its AF Therapy Portfolio with Cryterion
Acquisition of Cryterion Medical
Boston Scientific recently announced its acquisition of the remaining 65% stake in Cryterion Medical, a California-based company that's developing a single-shot cryoablation platform for AF (atrial fibrillation) treatment, for $202 million in an up-front cash payment.
Cryterion Medical was founded in 2016, and Boston Scientific has been an investor in the company since then.
Article continues below advertisement
Article continues below advertisement
Deal rationale
Boston Scientific has a broad product portfolio of electrophysiology therapies for cardiac rhythm disease diagnosis and management. The company has been accelerating the expansion of its electrophysiology portfolio through internal innovation and acquisitions in recent years.
With the acquisition of Cryterion Medical, Boston Scientific will have expanded its AF therapy portfolio, which consists of both the acquired cryoablation platform and the existing radiofrequency ablation therapy.
As per Dr. Kenneth Stein, Boston Scientific's chief medical officer for rhythm management, "The acquisition of Cryterion Medical enhances our AF ablation procedure offerings, allowing physicians to select a therapeutic option based on clinical preference and specific patient needs. We are committed to providing physicians with a comprehensive suite of therapies that lead the way for clinical advancements and address the needs of the increasing population of patients with AF."
Article continues below advertisement
In April, Boston Scientific added a thermal monitoring system for continuous esophageal temperature measurement to its electrophysiology product portfolio through its acquisition of Securus Medical. In October 2017, Boston Scientific had expanded the business through the acquisition of Apama Medical, which added a radiofrequency balloon catheter system to its portfolio.
Boston Scientific's CEO reiterated the company's focus on expanding through increased M&A (mergers and acquisitions) activity during its recent earnings release. The company has been making acquisitions since the beginning of 2018.
Is the deal earnings-accretive for BSX?
The Cryterion deal is expected to be immaterial on an adjusted EPS basis through 2020, but it's expected to be accretive thereafter. If we consider GAAP (generally accepted accounting principles) earnings, the deal is expected to be less accretive or dilutive depending on the amortization expense and net charges related to the acquisition. For 2018, the acquisition is expected to be earnings-accretive on a GAAP basis due to a one-time prior investment gain.
In the next article, let's take a look at Cryterion Medical's cryoablation therapy.