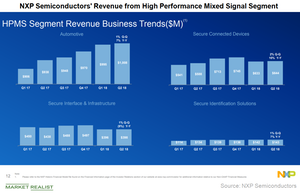 Automotive and Connected Devices: NXP's Key Growth Drivers
NXP's end markets
NXP Semiconductors (NXPI), a leader in the automotive chip market, provides HPMS (high-performance mixed-signal) analog, MCU (microcontroller), and sensor solutions. It also supplies other HPMS solutions for the SCD (secured connected devices), SI&I (secure interface and infrastructure), and SIS (secure identification solutions) markets. It is seeing growth in automotive and connected devices, which together contribute 75% of the company's revenue.
Article continues below advertisement
Automotive
NXP's automotive revenue rose 7% YoY (year-over-year) to a record $1 billion in fiscal Q2 2018 thanks to strong demand for all products and growing cross-selling opportunities. Meanwhile, rival Maxim Integrated (MXIM) reported 20% YoY automotive revenue growth, and Texas Instruments (TXN) is also witnessing strong demand in the automotive space.
NXP's automotive MCU sales slowed due to a shortage of discrete components. The company witnessed capacity issues in kinetic MCUs as design wins exceeded its production. The ramp-up of kinetic MCU production and resumed demand for automotive MCUs could drive NXP's automotive revenue in fiscal Q3 2018.
Secure connected devices
NXP's SCD revenue rose 10% YoY to $644 million in fiscal Q2 2018, driven by strong adoption of general-purpose MCUs and mobile transactions. NXP supplied mobile transaction solutions to a large original equipment manufacturer in India. NXP expects SCD revenue to see low-double-digit sequential growth in fiscal Q3 2018.
Article continues below advertisement
Secure interface and infrastructure
NXP's SI&I revenue fell 9% YoY to $398 million in fiscal Q2 2018 as interface products' 7%–9% growth was offset by a 20% decline in radio-frequency power and digital networking products. The segment lost ~$31 million from the US sales ban on ZTE. Now that the ban has been lifted, NXP expects SI&I revenue to rise 20% sequentially in fiscal Q3 2018.
Secure identification solutions
NXP's SIS revenue rose 7% YoY to $143 million in fiscal Q2 2018, with strong demand in mobility and retail slightly offset by weakness in government and banking. The company expects SIS revenue to fall sequentially in fiscal Q3 2018, by high-single digits.
Check out all the data we have added to our quote pages. Now you can get a valuation snapshot, earnings and revenue estimates, and historical data as well as dividend info. Take a look!