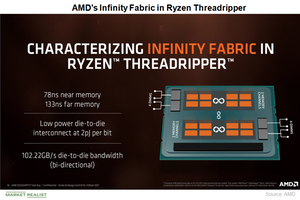 AMD's Infinity Fabric Technology inside Ryzen Threadripper Two
AMD's Ryzen Threadripper leverages Infinity Fabric technology
Advanced Micro Devices (AMD) is using Infinity Fabric to leverage its Zen cores across low, mid, and high-end PC and server CPUs (central processing units). An example of this is Ryzen Threadripper, which came as a surprise to the Ryzen product suite. Threadripper's architecture is similar to that of EPYC server CPU with some inactive cores and lesser memory. The first generation Ryzen Threadripper 1000 series was launched in August 2017 for very high-end desktops and workstations. It competed with Intel's (INTC) i9 processors.
At the Computex 2018, AMD unveiled its second generation Ryzen Threadripper built on the updated 12-nm (nanometer) Zeppelin die. It is expected to launch in the third quarter, maybe in August 2018.
Article continues below advertisement
Core count
According to AnandTech, Threadripper has four silicon pieces each containing eight cores. In 1950X, two silicon pieces were inactive because of which it had 16 cores. In the second generation Threadripper, all four silicon pieces would be activated bringing its core count similar to EPYC server CPU.
Memory
However, Threadripper supports four memory channels, whereas EPYC supports eight. Threadripper 1950X used these four memory channels to give direct memory access to its two active silicon pieces.
The second generation Threadripper would have the same number of memory channels, which means two active silicon pieces would have direct memory access, while the other two now active pieces would not have direct memory access. An increase in core count without an increase in memory would increase latency. However, AMD claims that latency would be an issue only for the most memory-bound tasks for which users can directly buy EPYC.
The above tweaks in design were possible because of AMD's Infinity Fabric. Next, we'll see how AMD's strong product execution is helping it improve its CPU market share.
Check out all the data we have added to our quote pages. Now you can get a valuation snapshot, earnings and revenue estimates, and historical data as well as dividend info. Take a look!