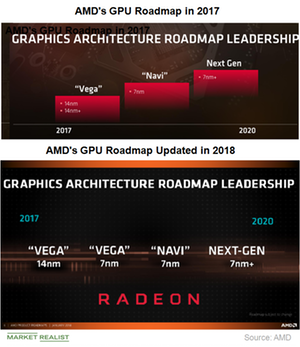 AMD Revises Original 2017 GPU Roadmap
AMD's GPU business in 2017 and 2018
Advanced Micro Devices (AMD) is progressing well in the CPU (central processing unit) market and might even overtake Intel (INTC) in the manufacturing node technology. However, this is not the case with its GPU (graphics processing unit) business, Radeon Technologies Group. RTG got a new senior vice president, David Wang, in early 2018, who replaced its earlier head Raja Koduri. Not only did the leadership of the GPU business change, the GPU roadmap also changed.
Article continues below advertisement
AMD's GPU roadmap
At the 2017 Investor Day, AMD stated that it would launch a 14-nm (nanometer) and a 14nm+ Vega in 2017 and 2018. However, a 14-nm Vega barely made it to the market inside AMD's Raven Ridge APU (accelerated processing unit), Intel's Kaby Lake G, and Apple's iMac. Vega never made it to the mainstream segment because of the expensive HBM2 (high bandwidth memory) inside it, which significantly increased its production cost.
Instead, AMD launched a refresh to its Polaris GPU architecture with Polaris 20, which had better process optimizations and aggressive clocks. Polaris 20 was never on the GPU roadmap. We are in the middle of 2018, and there are no signs of 14nm+ Vega and there are rumors circulating about the third iteration of Polaris under the Polaris 30 series.
Moreover, AMD announced that it would start volume production of 7-nm Vega GPU for data center in 2019 but gave no particular launch timing for a gaming GPU based on 7-nm Vega architecture. There are rumors that Navi GPU would launch sometime in late 2019 or early 2020. According to the original GPU roadmap, a 7-nm Navi GPU was planned for launch in 2019. However, a delay in the launch of Navi could have led to the addition of 7-nm Vega.
AMD's slow GPU rollout saw NVIDIA (NVDA) delay the launch of its next-generation gaming GPU architecture after Pascal, which was launched in 2016. Next, we'll look into the above rumors.
Check out all the data we have added to our quote pages. Now you can get a valuation snapshot, earnings and revenue estimates, and historical data as well as dividend info. Take a look!