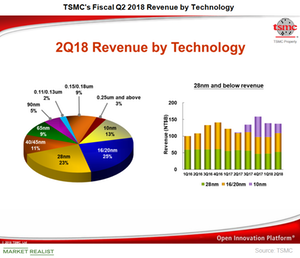 Advanced Technology Nodes to Drive TSMC's Future Revenue
TSMC's revenue by technology
So far, we've learned that Taiwan Semiconductor Manufacturing Company (TSM) manufactures a wide range of chips—from SoCs (system on chip) to network processors to memory chips to GPUs (graphics processing unit)—for diverse end markets such as automotive, gaming, smartphones, cryptocurrency, and AI.
TSMC focuses on manufacturing nodes to attract more chip designers to manufacture their chips at its foundry. In the second quarter, TSMC earned 61% of its wafer revenue from advanced nodes: 23% from 28 nm (nanometer), 25% from 16/20 nm, and 13% from 10 nm. The contribution of advanced nodes—that is, 28 nm and smaller—will likely continue to grow as TSMC increases its exposure to HPC (high-performance computing).
Article continues below advertisement
Article continues below advertisement
7 nm node puts TSMC ahead of the competition
TSMC started initial production on the 7 nm process node in the second quarter, with the technology contributing less than 1% to the company's revenue. TSMC is ramping up production on the 7 nm node and expects to start volume production by the end of 2018, while Samsung (SSNLF) is still in risk production of its 7 nm node and expects volume production to begin in the first half of 2019.
This technology advantage could help TSMC secure more than 50 design tape-outs by the end of 2018 for a wide range of customers, from Qualcomm (QCOM) to NVIDIA to Apple to Advanced Micro Devices (AMD). AMD's major foundry partner is Global Foundries, but it will manufacture its 7 nm Vega GPU on TSMC's 7 nm node. There are also rumors that Qualcomm will switch from Samsung to TSMC for its Snapdragon 855 SoC.
On the company's second-quarter earnings call, its CEO, C. C. Wei, stated that the company is ramping up its 7 nm production and expects the technology's revenue contribution to increase to more than 10% in the third quarter and more than 20% in the fourth quarter. He expects the 7 nm node to contribute over 20% of the company's 2019 revenue.
Next, we'll see what TSMC's technology advantage could do for fabless companies.