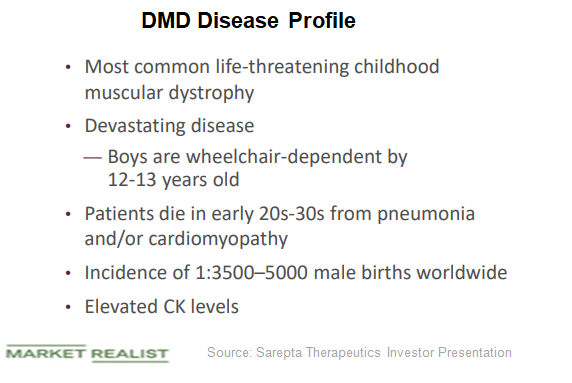 Why Investors Are in a Frenzy over Sarepta Stock in June
By Kenneth Smith

Jun. 22 2018, Updated 3:41 p.m. ET
Promising preliminary data
On June 19, Sarepta Therapeutics (SRPT) announced positive preliminary results from its phase one part 2a gene therapy micro dystrophin trial on treating patients with Duchenne muscular dystrophy (or DMD) from the first three children dosed. DMD generally affects boys, and death typically occurs before age 30 in DMD patients. In all three patients, biopsies done on the 90th day showed robust micro dystrophin expression in muscle as measured by all methods. Mean gene expression, measured by the percentage of micro-dystrophin positive fibers, was 76.2%.
Article continues below advertisement
Reduced levels of serum creatine kinase were observed. Creatine kinase levels are uniformly observed at higher levels in DMD patients, and elevated levels of the enzyme are generally a preliminary diagnostic tool for the disease, which is followed by confirmatory gene testing. In the trial, no serious adverse events were observed. The mean reduction of creatine kinase was more than 87% on the 60th day.
The study's principal investigator, Jerry Mendell, said, "Although the data are early and preliminary, if they persist and are confirmed in additional patients, will represent an unprecedented advancement for treating DMD."
Competition to watch out for
Currently, PTC Therapeutics (PTCT) markets therapies for DMD. After Sarepta announced these results, PTC stock fell ~30%. Solid Biosciences (SLDB) is also in the process of developing gene therapy for DMD. Solid stock rose on Monday after the FDA lifted the clinical hold on its DMD candidate SGT-001. Pfizer (PFE) is also developing a treatment for DMD, and the company began an early-stage study in April 2018.