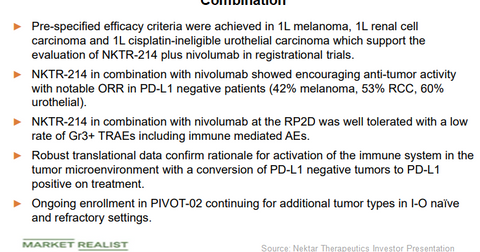 What's behind Nektar Therapeutics Stock's Recent Price Tumble?
By Kenneth Smith

Updated
Price performance
After a stellar rise in the past 12 months, Nektar Therapeutics (NKTR) stock fell more than 40% on June 4, which wiped out close to $6 billion of the company's market cap. This drop was after Bristol Myers Squibb (BMY) and Nektar reported preliminary results from the currently ongoing phase one and two study for NKTR-214 in combination with Opdivo for treating patients with stage four metastatic melanoma, renal cell carcinoma, and urothelial cancers. The price of Bristol-Myers Squibb stock also witnessed selling pressure and fell almost 3% on June 4.
The results
At present, enrolment is underway for the phase two stage of the pivot study in more than 400 patients suffering from renal cell, urothelial, non-small cell lung, and triple negative breast cancers. These results showed that prespecified efficacy criteria were achieved in three tumor types. Consequently, Nektar Therapeutics and Bristol Myers Squibb will initiate a phase three registrational trial in the third quarter in first-line advanced melanoma patients. Additionally, they are also designing pivotal studies in renal cell carcinoma and urothelial cancer.
Presentation highlights
In stage four metastatic treatment of naive 1L melanoma patients, pre-specified efficacy criteria were met for objective response rate (or ORR) in stage one with 85% of patients achieving either partial or complete response.
In stage four metastatic treatment of naive 1L renal cell carcinoma patients, 64% achieved a partial response. For stage four metastatic treatment naive 1L urothelial carcinoma patients, 60% achieved either a partial or complete response. The data showed the conversion of PD-L1 negative status at baseline to PD-L1 positive status at week three in 53% of patients. Of these, 78% of patients achieved clinical benefit.
Drug profile
Bristol-Myers Squibb's Opdivo is a PD-1 immune checkpoint inhibitor that is designed to overcome immune suppression. Nektar's NKTR-214 is an investigational immune stimulation therapy that is designed to expand and activate specific cancer-fighting T cells and NK cells directly in the tumor microenvironment.
In the next part of the series, we'll take a look at the revenue trend of Nektar Therapeutics.