What Are Wayfair's Long-Term Growth Strategies?
Wayfair (W) is aggressively investing in its business to enhance long-term growth prospects.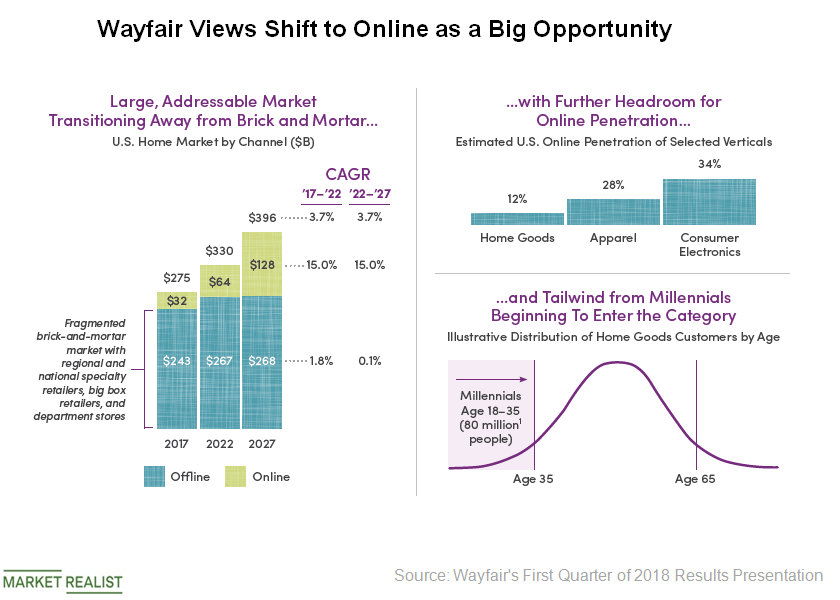 Ramping up investments
Wayfair (W) is aggressively investing in its business to enhance long-term growth prospects. The company is investing in expanding its proprietary logistics network as well as deploying the latest technology to help customers make purchasing decisions. The company is also diverting funds towards marketing to raise brand awareness.
According to the company, owing to the disruption caused by e-commerce, there is a huge addressable market for home goods. By 2027, the company has projected that the US home market will reach $396 billion. The online channel would constitute $128 billion of this total.
Wayfair is also on a hiring spree to support the growing needs of human resources, marketing and merchandising operations, and technological development. The company added 1,002 net new employees in the first quarter of 2018. As of March 31, Wayfair had 8,753 employees.
Article continues below advertisement
Article continues below advertisement
Logistics
The company has been focusing on its logistics network to boost delivery to customers and lower costs by decreasing reliance on third-party delivery agents. Wayfair's logistics network consists of the Wayfair Delivery network (or WDN) and CastleGate warehouses. CastleGate warehouse facilities help suppliers to move inventory to the warehouse, which is then delivered by Wayfair. The company through WDN can deliver small parcels in one to two days, while large parcels take about a week.
According to Wayfair, about 80% of the large parcel orders flowed through WDN's middle mile network, while the last mile network covered 60% of the large parcel orders. The company has added end-to-end supply chain services like ocean services, freight, and drayage for its supplier base.
Augmented reality app
Wayfair launched an augmented reality app for Android users to help them visualize how the selected furniture would look in their homes. The "View in Room 3D" was launched in March 2018. The AR app aims to enhance the customer shopping experience. Apart from the 3D viewing feature, the company has added other features like idea boards and search with a photo.
Apart from Wayfair, furniture sellers across the globe like the Swedish giant IKEA along with domestic retailers like Houzz and Williams Sonoma (WSM) have also deployed AR technology to help with furniture buying.