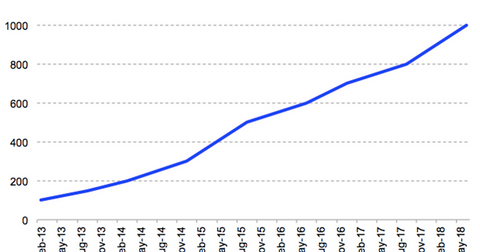 Users Are Spending 53 Minutes per Day on Instagram in June
By Sanmit Amin

Updated
Instagram gains popularity
Facebook-owned (FB) Instagram recently announced that it had a whopping 1.0 billion monthly active users. The app has been gaining popularity over the last few years among younger users, especially after it cloned some of Snapchat's (SNAP) popular features like Stories.
According to research by online measurement company Similar Web, Instagram users in the United States spent nearly the same amount of time on the platform as Facebook users did in June. This research only covered Android users.
Users spend 53 minutes per day on Instagram
Instagram users spent as much as 53 minutes per day in June compared to Facebook's 58.5 minutes per day. Snapchat wasn't too far behind, with its users spending an average of 49.5 minutes per day in June.
Time spent on a platform is an important driver of ad revenues. More time spent on an app increases the possibility of users seeing more ads, which spurs ad revenues.
According to Similar Web, the average time spent on Snapchat has surged from 25.2 minutes per day in June 2017 to 49.5 minutes per day this month. This is a good sign for the company, which is working to drive up its ad revenues amid a slowdown in user and revenue growth in the first quarter.