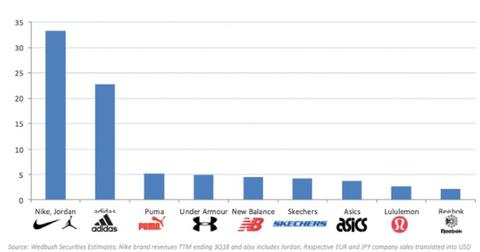 Under Armour: How It's Placed among the Competition
By Sonya Bells

Updated
How the competition took a toll on Under Armour
Not long ago, Under Armour (UAA) challenged Nike's (NKE) dominance in the sneaker market with the success of its Curry series. However, both UAA and NKE started losing ground to other sportswear players as customer preferences moved away from performance wear to casual wear.
Under Armour was overtaken by Puma to become the number three sportswear brand in 2017. Now, UAA's position is being challenged by New Balance, which recorded an 18% YoY increase in fiscal 2017 to $4.5 billion. UAA, on the other hand, grew sales by only 3% YoY during fiscal 2017 to ~$5 billion.
Wedbush analyst Christopher Svezia said: "Brands like Puma, Reebok, and New Balance appear to be ramping up efforts in areas where Under Armour is present." Svezia added that while these brands are focusing on non-athletic products and marketing campaigns, Under Armour doesn't seem to be doing much.
Product innovation to fight the competition
Under Armour has been taking steps to turn around its struggling brand. Management is taking initiatives such as focusing on reducing the lead time between product development and sale, decreasing the product variety to suit customer preferences, and making the right decisions on product locations.
Randal J. Konik of Jefferies noted that Under Armour's recently launched Curry 5 series "shows massive improvement in product design but also in driving demand and social buzz."
Under Armour's Project Rock 1 was a massive success and was sold out within 30 minutes of its launch.
"We believe that the limited availability (and subsequent restocking) is part of the company's plan for managing the franchise to generate buzz and promote a 'call to action' and represents a positive for brand equity," said investment firm Instinet Nomura.
While UAA is progressing well in product innovation, increased competition has not been the only headwind the company is facing. Its swollen inventory base was another major concern that depressed its margins. Let's look at that next.