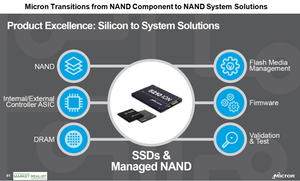 Micron Focuses on High-Value Memory System Solutions
By Puja Tayal

Updated
Micron's transition from component supplier to solutions supplier
Micron Technology (MU) is using vertical integration to achieve cost competitiveness in both the DRAM (dynamic random-access memory) and NAND (negative AND) spaces.
One benefit of vertical integration is the increasing collaboration between the technology and manufacturing teams, which helps address manufacturing issues and control quality.
Now, let's look at the other aspect of vertical integration, which has enhanced the company's capability to transform silicon into system solutions.
Micron is increasing its capabilities in assembling finished goods such as SSDs (solid-state drives) and HBMs (high-bandwidth memory), which integrate its NAND and DRAM memory components.
Micron focuses on memory solutions
At its 2018 Investor Day, Micron's chief business officer, Sumit Sadana, stated that as part of its transition to a solutions system, the company is increasingly investing in assembly, testing, and packaging capabilities to convert NAND components into high-value solutions such as SSDs and managed NAND.
Sadana stated that Micron looks to use more internal controllers than external controllers to get full control of controller and firmware solutions and deliver a complete package to its customers. The company is investing in validation and testing infrastructure to deliver high-quality products faster and at a lower cost.
By building out the above-mentioned capabilities, Micron has reduced the time it takes to transform components into high-value solutions by 54% for DRAM and 70% for NAND over the last two years.
Product mix
Micron is also increasing the mix of its advanced solutions. It increased the mix of its TLC (triple-level cell) NAND in its overall NAND output from 55% in fiscal Q2 2017 to 80% in fiscal Q2 2018.
It has built the industry's first QLC (quad-level cell) 64-layer 3D NAND in collaboration with Intel (INTC), and it plans to increase the mix of QLC in 2019.
Next, we'll look at Micron's forecast for the memory industry and its impact on product and technology mix.