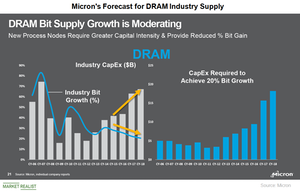 Micron Expects Limited Growth in DRAM Industry Supply
By Puja Tayal

Updated
DRAM industry supply
Micron Technology (MU) expects its diversified customer base to increase DRAM (dynamic random-access memory) demand in the double-digits over the next four years. While DRAM demand continues to grow, DRAM industry supply has slowed from 2006 through 2018.
DRAM is an oligopoly market, with Samsung (SSNLF), SK Hynix, and Micron jointly commanding more than 95% of the market. This state of affairs has brought some supply discipline to the market. SK Hynix boosted its investment in DRAM as a year-long undersupply situation encouraged it to boost its DRAM capacity.
Article continues below advertisement
However, new capacity takes at least two years to come online. Moreover, DRAM production is becoming more capital intensive with every advanced node due to increased technical complexity and manufacturing steps, which require more equipment and clean room space. Therefore, bit growth per wafer is reducing with every node transition.
Micron expects DRAM industry supply to grow at an average annual rate of 20% beyond 2018. To achieve this 20% supply bit growth, the industry will have to spend significant capital. While advanced technology is capital intensive, it significantly reduces cost per bit and improves performance, and that is what Micron wants to achieve.
Micron's position in the DRAM market
At its 2018 Investor Day, Micron's head of technology development, Scott DeBoer, stated that back in 2013, when Micron acquired Apple's DRAM supplier, Elpida Memory, it was 100% behind its rivals in terms of technology.
Over the last five years, Micron has accelerated its transition to the advanced node and is currently ramping up 1Y DRAM. With this, Micron is 15% behind the industry in terms of cost competitiveness. The company is continuing to transition to advanced nodes to bridge this 15% cost gap with its rivals and reach par with the industry.
Next, we'll look at Micron's technology strategy for DRAM.