Kroger's Key Revenue Drivers ahead of Its Fiscal Q1 Results
Kroger's management expects its same-store sales to reach 1.5%–2.0% during fiscal 2018.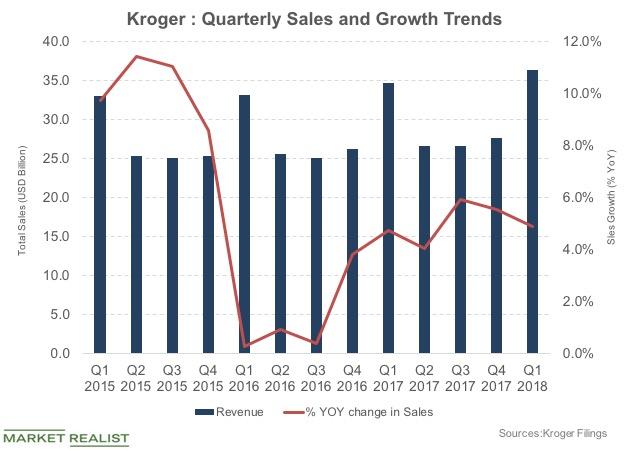 Kroger's sales drivers
Kroger (KR), which reports its fiscal first-quarter results on June 21, is expected to post a 2.9% YoY (year-over-year) increase in its sales. Its top line rose 6.4% during the last fiscal year, driven by 0.7% growth in its same-store sales, its 1.9% increase in square footage, and its Modern Health merger. Excluding the fuel sales, the Modern Health merger, and the additional 53rd week, its sales were up only 2.2%.
Kroger's Natural Foods segment once again grew at a double-digit rate during the year. It recorded $16.7 billion in natural and organic sales, including $2.0 billion from the Simple Truth line, which the company had launched just five years ago.
Its Private Brands segment posted strong performance and contributed $21.0 billion toward its top line. Private Brands accounted for 29.5% of Kroger's unit sales and 26.0% of its dollar sales (excluding fuel and pharmacy) during the fiscal fourth quarter.
The supermarket giant expanded its digital presence. Its digital sales soared 90.0% during the year, driven by the expansion of ClickList to ~1,000 locations.
Article continues below advertisement
Article continues below advertisement
Same-store sales growth and expectations
Kroger's sales comps have been under pressure throughout the last year. Its fiscal first quarter witnessed a 0.2% decline in comps (ex-fuel), primarily due to deflationary pressures. However, as deflation settled down, its comps began to improve. These comps increased to 1.5% in the fiscal fourth quarter of 2017 but remained below the five-year average of 3.0%.
Kroger's management expects its same-store sales to reach 1.5%–2.0% during fiscal 2018. The company has been sacrificing margins to boost sales and is expected to do so in the near future. Read the next part for a view of Kroger's profitability and margins.