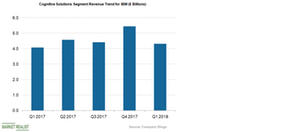 IBM Takes Slow and Steady Approach for Watson AI
Importance of Watson AI
The growing adoption of IBM's (IBM) Watson AI platform is contributing significantly to the company's overall business. Demand for AI across industries compelled the leading tech giant to launch Watson AI, which provides useful insights into complex business problems. IBM offers Watson Health, Watson IoT,[1.Internet of Things] and Watson Financial Services to its Fortune 500 customer base.
Watson Financial Services includes regulatory technology and commercial payment offerings. Large financial institutions such as JPMorgan Chase (JPM) are using AI for risk and portfolio optimization. Watson Health, IBM's key driver, has been adopted widely by government agencies and life science and oncology departments.
Article continues below advertisement
Article continues below advertisement
Watson strategy
Watson AI's growth has continued to support IBM's Cognitive Solutions segment, as shown in the graph above. In fiscal Q1 2018, the segment grew 5.9% YoY (year-over-year) to $4.3 billion. In the last five quarters, its revenue has grown at a compound annual rate of 1.4%.
IBM has not expanded Watson AI aggressively, limiting it to the health and financial sectors. The company is still trying to enhance the platform's AI learning capabilities to improve its prediction skills. The company believes that its slow and steady approach will allow it to improve its AI service and market penetration.