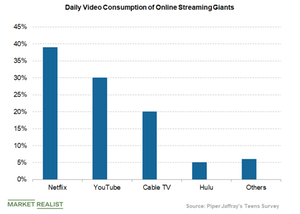 How Netflix's Original Content Spending Impacts Its Rivals
By Sophia Nicholson

Updated
Netflix's investment in original content
Netflix (NFLX) has made significant investments to expand its content portfolio, as it seeks to dominate the online streaming market. On May 14, Netflix's chief content officer, Ted Sarandos, announced at the MoffettNathanson Media & Communications Summit that the company is set to invest ~85.0% of total spending in original content.
The online streaming giant expects to spend ~$8.0 billion in 2018. Netflix is set to release 470 originals by the end of 2018, taking the total count to nearly 1,000 originals.
Increasing Netflix customer base for original programming
Netflix expects to invest a majority of its spending on original shows and films, as rivals Disney (DIS) began to launch their streaming services. Disney already started its ESPN direct-to-consumer offering in April and is set to launch Disney streaming service in 2019. 
As Disney is launching its streaming substitutes, it plans to withdraw its movies from Netflix in 2019. Apple, HBO, Amazon's (AMZN) Prime, and Alphabet's (GOOGL) YouTube are other established players in the online streaming market.
Netflix noted that Millennials are becoming more interested in original content. According to Sarandos, 90.0% of Netflix's customers regularly watch original content.
Piper Jaffray's 35th semi-annual Taking Stock with Teens survey revealed that Netflix is gaining popularity among teenagers. According to the survey, the respondents spend 39.0% of their time watching Netflix on a daily basis. Users' daily video consumption of YouTube, cable TV, and Hulu comprises 30.0%, 20.0%, and 5.0% of viewership, respectively. Other streaming services are watched 6.0% daily.