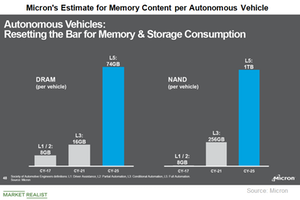 How Big Is the Autonomous Vehicle Opportunity for Micron?
Autonomous vehicle market
So far in this series, we've discussed the growing adoption of artificial intelligence in mobile and at the edge. One of the biggest markets for AI at the edge is automotive. The entire auto supply chain is working on developing the car of the future—the SDC (self-driving car), which is essentially a data center on wheels.
The degree of full autonomy would take place at five levels. At present, L1 (Level 1) and L2 cars are running on the road. L1 and L2 provide ADAS (advanced driver assistance systems). Automakers are working with tech companies like NVIDIA (NVDA) and Intel (INTC) to make L3, L4, and L5 cars.
Article continues below advertisement
At its 2018 Investor Day, Micron's (MU) CEO, Sanjay Mehrotra, stated that L3 cars would have more sensors, cameras, and radar to collect data of its surroundings. These capabilities include maps, nearby cars, signals, and any obstructions on the road, allowing it to process this data in a split second to make real-time decisions. While processing data at the edge, the car computer would also connect to the cloud to refine its driving operations.
Mehrotra expects 26 million L3 and higher cars to be on the road by 2025. As we move to fully autonomous L5 cars, the computer would also have the capability to monitor both internal and external car environments.
Automotive memory
Micron's chief business officer, Sumit Sadana, stated that the semi-autonomous L1 and L2 cars that are currently on the road require 8 GB (gigabyte) of DRAM (dynamic random access memory) and NAND (negative AND). When L3 cars hit the road in 2021, the DRAM content per car would double to 16 GB, and the NAND content per car would grow 31x to 256 GB.
As the capabilities of autonomous car improve and the world moves toward L5 cars by 2025, the DRAM and NAND content per car could rise fourfold to 74 GB and 1 TB (terabyte), respectively.
Next, we'll see how Micron could benefit from automotive uses.
Check out all the data we have added to our quote pages. Now you can get a valuation snapshot, earnings and revenue estimates, and historical data as well as dividend info. Take a look!