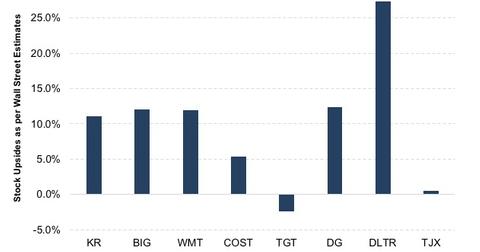 Dollar Tree versus Dollar General: Stock Upside
By Sonya Bells

Updated
Is there an opportunity knocking?
Dollar Tree (DLTR) and Dollar General (DG) have seen high volatility over the past year. Dollar General, which was trading at $94.90 as of June 8, has traded between the $65.97 and $105.82 over the last 12 months. Dollar Tree, now priced at $82.63, has been slightly more volatile. It moved within a 52-week range of $65.63–$116.50.
While Dollar General is sitting at about 12.8% below its 52-week high price, Dollar Tree is 42% below its high point. So, is there any upside attached to the current stock prices? Let's see what Wall Street thinks.
Article continues below advertisement
Recent price revisions
The recent earnings misses by Dollar Tree and Dollar General resulted in a host of target price revisions for both companies.
Some brokers who cut price targets for DG include Citigroup (from $114 to $108), Credit Suisse ($103 to $93), Telsey Advisory ($120 to $110), and Raymond James ($105 to $100).
Dollar Tree faced steeper price cuts. Citibank reduced its price target from $104 to $90, Oppenheimer lowered its target price from $108 to $91, UBS cut its target price from $125 to $113, and Credit Suisse cut its target price from $114 to $93.
Stock upside
Despite the target price cuts, both companies continue to have strong upsides. Wall Street has set an average target price of $105.38 on Dollar General, reflecting an upside of 12% over the next year. Individual price targets on the company range between $80 and $120.
Dollar Tree has an average price target of $104.33, reflecting an upside of 27%. Individual price targets for the company range between $81.96 and $130.