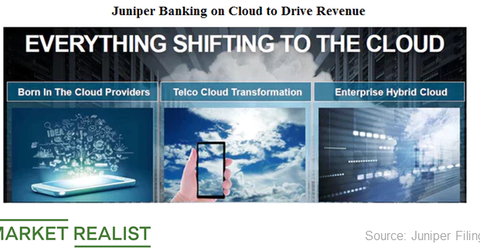 Could Cloud Revenue Growth Improve for Juniper in Fiscal 2018?
By Adam Rogers

Updated
Cloud vertical revenues declined significantly
Juniper Networks' (JNPR) Cloud Vertical experienced another disappointing quarter of revenue decline as sales fell 19.0% YoY (year-over-year) to $268.0 million in the first quarter. This revenue decline was attributed to a fall in Cloud Switching and Routing revenues in the first quarter.
Juniper's Cloud revenues fell 11.0% YoY in the fourth quarter of 2017 as well. Its Cloud revenues have declined in the last two quarters, driven by a shift to scale-out from scale-up architecture among customers in this vertical. As new architectures take time to roll out and ramp up, they have created a short-term headwind for Juniper.
The firm is looking to introduce lean core technologies that are expected to deliver material efficiencies as well as provide a price performance advantage to customers. Juniper stated that it isn't too concerned with respect to the revenue decline in the Cloud vertical, as it has a substantial footprint among large cloud providers.
Customer transitioning to PTX platforms
During the company's first-quarter earnings call, Juniper's CEO, Rami Rahim, stated, "I'm pleased with the progress we are making in our Cloud vertical, where several of our largest customers are transitioning from our MX to our PTX platforms. While this process is creating ASP pressure in our cloud routing business that is likely to persist over the next few quarters, we believe we are making progress with this transition, which should become less of a headwind through the course of the year."
Juniper Networks' Cloud Routing business experienced sequential growth in the first quarter, and this trend is expected to continue for fiscal 2018. The firm's PTX product accounted for over 80.0% of cloud routing ports that were shipped on a 10-gig equivalent basis, up from 40.0% in the first quarter of 2017. Juniper Networks also posted better-than-expected revenues in the Cloud Switching vertical.
Despite the recent revenue decline in its Cloud vertical, Juniper Networks stated that it is strategically positioned to capitalize on customers' rising network requirements.
Juniper Networks has a market cap of $9.6 billion. Peers Cisco Systems (CSCO), Ericsson (ERIC), Nokia (NOK), and Hewlett Packard Enterprise (HPE) have market caps of $205.0 billion, $23.6 billion, $32.0 billion, and $24.0 billion, respectively.