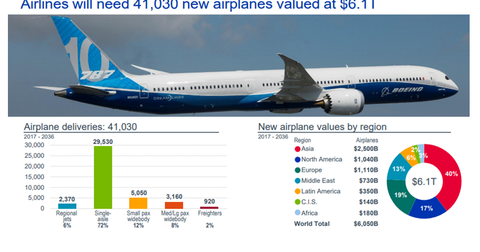 Boeing Surpasses Rival Airbus in 2018 Orders
By Samuel Prince

Updated
Boeing's order book position
The order data for May shows that Boeing (BA), the world's largest aerospace company, has managed to surpass archrival Airbus. BA garnered 43 gross orders in May, which included 24 single-aisle aircraft and 19 wide-body jets. Airbus, on the other hand, received 25 orders including nine single-aisle aircraft and 16 wide-body jets. Value-wise, Boeing's orders were worth $4.2 billion, whereas Airbus orders were valued at $2.8 billion. Boeing received orders from ten different customers, whereas Airbus orders were from two customers.
Article continues below advertisement
Boeing expects a moderate order flow for 2018. In the first five months, the aircraft maker received 376 gross orders. However, the net orders were 306, which means there were 70 cancellations. Airbus's gross orders were 161 with 50 cancellations later on, which resulted in 111 net orders. Investors will keep an eye on the Farnborough Airshow in July this year, which will decide the extent of order materialization by both the plane makers.
Boeing's robust June orders
On June 20, Boeing revealed that it received a total of 24 orders for BA's freighter 767F and 777F from parcel delivery giant FedEx (FDX). FedEx Express stated that it will purchase 12 Boeing 767F aircraft and 12 Boeing 777F from the Chicago-based company. Based on the list price, FDX's total orders were valued at $6.6 billion. However, AeroAnalysis, an aviation research company, pegged the contract value at ~$2.8 billion after trade discounts.
Article continues below advertisement
On June 25, India-based Jet Airways entered an agreement with the plane maker to buy an additional 75 Boeing 737 MAX aircraft worth $10.0 billion. In addition, the Times of India stated that the Indian government offered to buy around 1,000 civilian aircraft over the next seven to eight years from the US. This was seen as a pacifying action by India after the government imposed reciprocal tariffs after US action on steel and aluminum duties. The Indian government agreed to pay $5.0 billion per year per aircraft from the US. If this materializes, then Boeing will be the direct beneficiary from this deal.