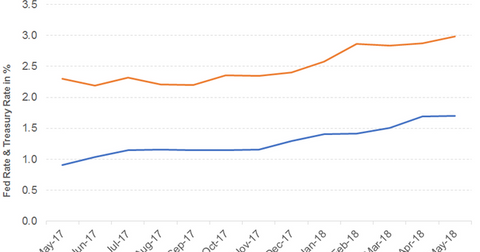 A Look at the Financials Sector's Dividend Yield: Part Two
By Amanda Lawrence

Updated
Financials sector industries
In this article, we'll continue with our discussion of the financials sector. Diversified REITs, life and health insurance, multiline insurance and brokers, commercial REITs, residential REITs, real estate development and operations, holding companies, banks, property and casualty insurance, and specialized REITs generated negative six-month returns.
Going forward
Banks will likely be driven by rising Fed rates, corporate tax reforms, and potential financial deregulation. The rising interest rates might demotivate borrowers, which could affect the industrial and real estate sectors. Insurance companies could also see boosts from the healthcare policies adopted by the government. High investor confidence is translating into lower Treasury prices and higher Treasury yields. Investors are selling Treasury bonds in anticipation of higher inflation, leading to the higher yields.
Dividend ETFs
The WisdomTree International SmallCap Dividend (DLS) offers a dividend yield of 2.9% at a PE of 15x. It has 23% and 12% exposure to industrials and financials, respectively. The WisdomTree US LargeCap Dividend ETF (DLN) offers a dividend yield of 2.4% at a PE of 20.1x. It has 19% and 14% exposure to technology and financials, respectively.
We'll discuss the basic materials industries' dividend yield in the next part of the series.