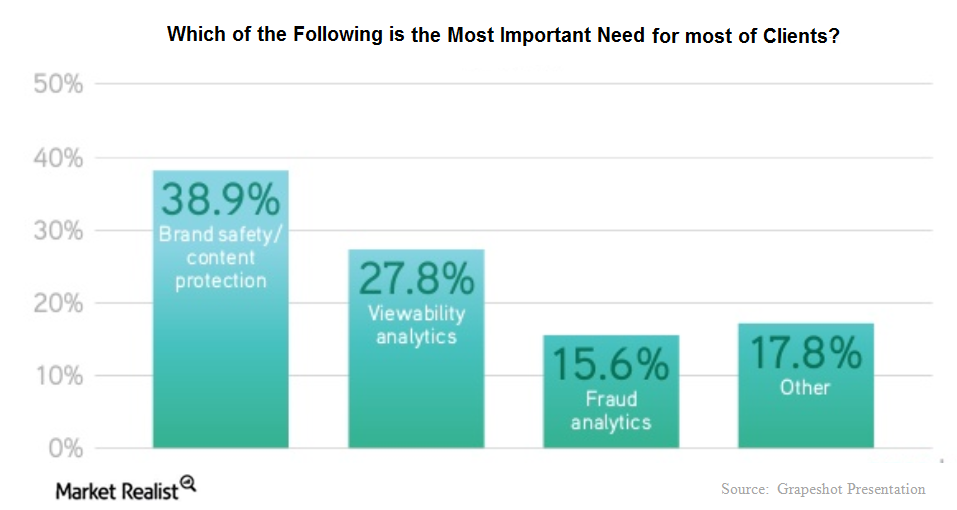 Why Oracle Acquired Grapeshot
By Anne Shields

May. 4 2018, Updated 12:40 p.m. ET
Oracle's recent acquisition is in brand safety and advertising
Earlier, we discussed Oracle's recent acquisition of Vocado. On April 24, Oracle (ORCL) announced its acquisition of Grapeshot, a startup known for its platform that ensures brand safety and helps agencies, publishers, ad platforms, and brands match ads to appropriate placements.
According to Oracle, "Every month, over 38 billion programmatic ad impressions are enhanced using Grapeshot's Contextual Intelligence Platform in dozens of languages, and this number has grown well over 100% year over year." The financial details of the deal weren't disclosed.
Article continues below advertisement
Grapeshot could strengthen Oracle's role in digital marketing and advertising space
The acquisition of Grapeshot by Oracle is an indication of mounting complexity in the area of advertising and marketing technology.
It's hard to specifically match ads to content in every case. With the increased awareness of data protection and increased examination of how data are utilized for ad targeting, this is expected to become more difficult with the passage of time. Grapeshot's offerings enable marketers to solve this problem by matching advertisements not only to websites but also to keywords on pages.
However, sometimes a brand's streaming ads alongside its content does more harm than good to its image. Recently, advertisers were forced to freeze some ads on Google's (GOOG) Youtube when it was discovered they'd been running alongside videos of children with objectionable content.
In early 2018, Google launched an AdSense offering that uses machine learning to "read" content on distinct pages to comprehend the context before it lets an ad to it.
Grapeshot isn't linked to any particular ad platform. By acquiring Grapeshot, Oracle can make a name for itself as an unbiased enabler to customers to achieve the results. This acquisition also signifies the move toward automation and intelligent applications.