Why Disney Is Investing in Theme Parks
In fiscal 2Q18, Disney's Parks and Resorts segment reported revenues of $4.9 billion.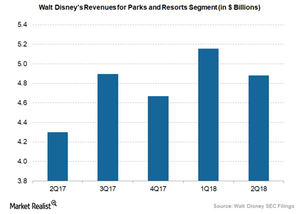 Disney's investment in theme parks
Walt Disney (DIS) has been investing in its theme park system, which remains the driving force for the company's top-line growth. In fiscal 2Q18, Disney's Parks and Resorts segment reported revenues of $4.9 billion. The segment significantly increased on a year-over-year (or YoY) basis by 13.0% from revenues of $4.3 billion in fiscal 2Q17.
Park and entertainment peers such as Comcast (CMCSA) and SeaWorld Entertainment (SEAS) also have been investing in theme parks to attract more customers.
Article continues below advertisement
Article continues below advertisement
Driving factors of Parks and Resorts segment
In fiscal 2Q18, the increase in top-line growth in the Parks and Resorts segment was backed by the rise in the number of domestic parks and resorts. The shift of the Easter holiday from the third quarter last year to the second quarter this year also benefited the segment's revenues.
The increase in domestic parks and resorts was driven by increased guest spending, attendance growth at Walt Disney World Resort, and higher sponsorship revenues. On the other hand, growth at the international parks and resorts was due to higher attendance and occupancy at Disneyland Paris and Hong Kong Disneyland Resort.
Shanghai Disney Resort didn't perform well in the quarter due to unfavorable weather, which resulted in lower attendance, cost inflation, and currency headwinds. The recent opening of Toy Story Land in Shanghai Disneyland contributed to the recovery in March and is expected to add to its income.
Higher costs
Disney's significant investments in its theme parks have also raised its costs. Higher expenses related to theme parks include labor costs, inflation, depreciation expenses, and higher technology spending. Increased spending for new guest offerings also adds to the company's costs. In fiscal 2017, Disney spent more than 60.0% of its total investments in domestic parks.
Future investments
Apart from the successful opening of Toy Story Land in Shanghai, Disney has plans to open Toy Story Land in Orlando next month. Then, the company has plans to open Star Wars: Galaxy's Edge in Disneyland and Disney World by the end of 2019. Disney also plans significant investments in new hotels, cruise ships, and additions to its existing resorts.
Disney's planned acquisition of Fox's (FOXA) assets is expected to give Disney access to hit movie franchises such as X-Men, Planet of the Apes, and the Avatar series. Park attractions such as Pandora—The World of Avatar can also be expected if the deal happens.