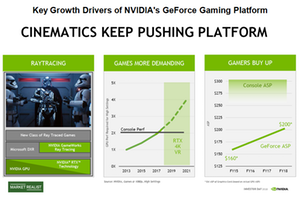 What Is NVIDIA's Strategy to Expand Its Gaming Business?
NVIDIA's gaming focus
In the previous part of this series, we saw that the gaming market has become more social and the increasing number of graphics-intensive AAA games are increasing the demand for discrete GPUs (graphics processing units) among gamers.
NVIDIA (NVDA) is the most preferred GPU for gaming enthusiasts. The company is leveraging the social nature of gaming to make its GeForce platform more interactive by adding popular features. NVIDIA's GeForce Experience includes NVIDIA Ansel, which allows gamers to take in-game pictures. Plus, NVIDIA Highlights automatically captures special moments of a game and allow gamers to share them on social sites like Facebook and Twitter.
Article continues below advertisement
NVIDIA expands gaming portfolio
At the company's Investor Day 2018, NVIDIA's senior vice president of the GeForce business unit, Jeffrey Fisher, stated that NVIDIA has expanded its gaming portfolio to notebooks. In early 2017, the company launched its MaxQ technology, which brings GeForce GTX performance to notebooks. In 2018, more Max-Q notebooks would be shipped.
NVIDIA also launched the beta version of GeForce NOW, which allows gamers to play graphics-intensive games on the cloud at an hourly rate. Fisher stated that the company has received a positive response for GeForce NOW, with thousands of customers playing PC-level games on notebooks. NVIDIA has also entered the game console market by powering Nintendo's Switch.
Emerging areas in gaming
While gaming popularity has increased in several countries, there are some emerging markets where there is a higher percentage of the population but very few play games. These markets present new opportunities as broadband penetration increases in these regions.
Another new opportunity comes from VR (virtual reality), which is a new technology. Once VR/AR (augmented reality) technology is adopted, it would bring significant opportunity to gaming.
Article continues below advertisement
Intel looks to enter the PC gaming market
Looking at the strong growth opportunity presented by discrete GPUs in gaming and AI (artificial intelligence), Intel (INTC) decided to enter the discrete GPU market by hiring Advanced Micro Devices' (AMD) GPU head, Raja Koduri. Initially, Intel launched a project to design GPUs for the data center. According to media reports, this project would be extended to PC gaming, with Intel launching a gaming GPU by 2020. These media reports came as Intel posted 102 graphics-centric job openings.
At present, NVIDIA is a leader in the gaming GPU market with its only rival, AMD, lagging behind in terms of technology. A company like Intel has the necessary cash and research and development resources to develop a competitive GPU. However, it is expected to take some time. Until then, NVIDIA is expected to dominate the gaming area.
Check out all the data we have added to our quote pages. Now you can get a valuation snapshot, earnings and revenue estimates, and historical data as well as dividend info. Take a look!