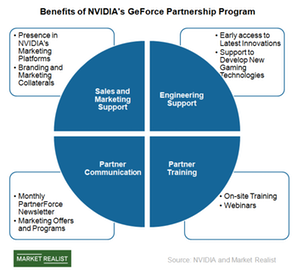 The Industry's Response to NVIDIA's GeForce Partner Program
NVIDIA's GeForce Partner Program
NVIDIA's (NVDA) GeForce gaming GPUs (graphics processing units) are increasingly being adopted by data centers, AI (artificial intelligence) developers, and crypto miners to perform high-computing tasks. This growing adoption has created a shortage of GPUs for NVIDIA's core market of gamers. To ensure that its GPUs reach gamers rather than crypto miners and AI developers, NVIDIA launched the GPP (GeForce Partner Program) on March 1.
Article continues below advertisement
In its blog, NVIDIA stated that the GPP would provide engineering and marketing support to participating partner brands. NVIDIA clarified that the program was not exclusive, as partners could voluntarily participate and exit the GPP when they wanted at no cost. Moreover, participating partners wouldn't receive any monetary payments or product discounts.
Negative news around NVIDIA's GPP
However, HardOCP's editor-in-chief, Kyle Bennett, published a report on March 8, after rival Advanced Micro Devices (AMD) contacted his website and several other websites asking them to research the possible implications of NVIDIA's GPP program on its competition.
In his report, Bennett opined that the program could have anti-competitive implications, as it forces AIB (add-in-board) partners to change their method of selling competitors' products. For example, AIB partner ASUS sells both AMD and NVIDIA GPUs under its ROG (Republic of Gamers) brand. By joining GPP, ASUS could sell either NVIDIA cards or AMD cards under the ROG brand, but not both.
Article continues below advertisement
AIB manufacturers and NVIDIA's GPP
AIB partners ASUS, Gigabyte, and MSI joined the GPP. In mid-April, ASUS rebranded its ROG gaming brand as "AREZ" to supply AMD's GPUs, making the ROG brand exclusive to NVIDIA's GPUs. Gigabyte stated that it would remove AMD's GPUs from its AORUS gaming brand, and MSI followed soon after. While Asia-based companies joined NVIDIA's GPP to remain on good terms with the chip supplier, US-based companies did not join the program.
Are PC original equipment manufacturers part of NVIDIA's GPP?
In another HardOCP article on April 12, Bennett stated that the world's largest PC OEMs (original equipment manufacturers), HP (HPQ) and Dell, were resisting GPP as they buy GPUs in bulk. His statement came after an article from The Verge stated that HP's newly launched Pavilion Gaming line offers both AMD's and NVIDIA's GPUs—AMD's Radeon RX 560X and NVIDIA's GeForce GTX 1050 Ti or GTX 1060 Max-Q.
Even Lenovo was rumored to have not joined NVIDIA's GPP. None of the three PC OEMs confirmed whether or not they had joined GPP. While AIB partners adopted NVIDIA's GPP and PC OEMs did not, AMD strongly opposed the program. We'll look at AMD's reaction to NVIDIA's GPP next.
Check out all the data we have added to our quote pages. Now you can get a valuation snapshot, earnings and revenue estimates, and historical data as well as dividend info. Take a look!