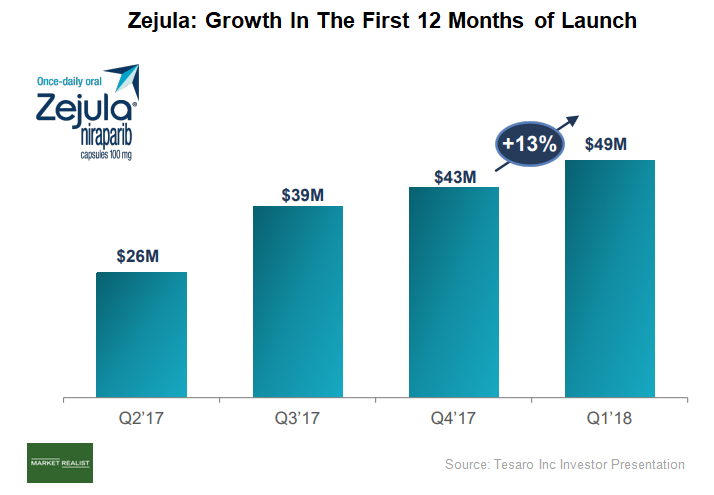 Tesaro's Zejula Promises Significant Growth
By Kenneth Smith

May. 22 2018, Updated 1:18 p.m. ET
Products
Tesaro's (TSRO) products on the market are Zejula and Varubi. Zejula has been approved in the United States and the European Union as a maintenance treatment for adults with recurrent epithelial ovarian, fallopian tube, or primary peritoneal cancer. Varubi has been approved in the United States and the European Union in combination with other antiemetic agents in adults to prevent delayed nausea and vomiting associated with chemotherapy.
Tesaro decided to stop marketing and distributing the intravenous formulation of Varubi. The company plans to pursue strategic alternatives for the brand.
Tesaro started commercializing Zejula in the United States in April 2017 and Europe in December 2017. The drug generated sales of $48.87 million in the first quarter. Varubi's sales fell 39% from $2.14 million in the first quarter of 2017 to $1.30 million in the first quarter.
Article continues below advertisement
Key collaborations
In May 2015, Tesaro entered into a research agreement with Merck and Co's subsidiary Merck Sharp and Dohme to perform a trial to evaluate the safety and efficacy of niraparib and Keytruda in patients with breast cancer and ovarian cancer. Under the agreement, the two companies share the study's external costs equally. During the first quarter and the first quarter of 2017, Tesaro incurred $1.8 million and $2.1 million in external study costs. Merck will reimburse Tesaro $0.9 million and $1 million, respectively.
Takeda Pharmaceutical
Tesaro entered into an exclusive license agreement with Takeda Pharmaceuticals' subsidiary Millennium Pharmaceuticals in July 2017. Tesaro granted Takeda certain patent rights and information related to niraparib. Takenda can develop and commercialize niraparib to treat all tumor types in Japan and all tumor types except prostate cancer in South Korea, Taiwan, Russia, and Australia.
Tesaro received $100 million in an upfront payment. Tesaro is also eligible for different milestone payments of up to $240 million.
Next, we'll discuss Tesaro's financial performance.