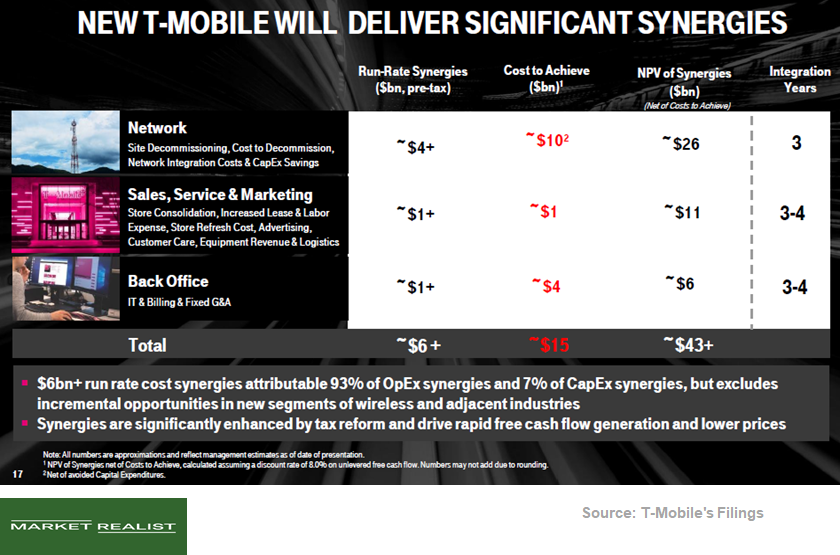 Must-Know Potential Synergies from a T-Mobile–Sprint Merger
New T-Mobile is expected to deliver significant synergies
T-Mobile (TMUS) and Sprint (S), the country's third- and fourth-largest wireless service providers, announced a potential merger deal on April 29. The combined entity would be stronger than each individual company with greater spectrum, network scale, and cost synergies.
The combined company expects more than $6.0 billion in annual run-rate synergies. About 93.0% would be related to operating expenses, and 7.0% would be related to capital expenditures. This represents a net present value (or NPV) of ~$43.0 billion, which is net of ~$15.0 billion of upfront costs to achieve such synergies. This scenario refers to cost synergies and doesn't include any revenue synergies.
About $4.0 billion of the run-rate synergies would come from the network, and ~$1.0 billion would come from sales, service, and marketing. Plus, about $1.0 billion would come from back-office functions.
Article continues below advertisement
Lower prices
This scale would allow the combined company to compete at lower prices while offering more data and freeing customers from service contracts. The combined entity also expects to offer better coverage, reliability, and speed. The combined company is expected to employ more people per year than both companies separately, and it plans to spend up to $40.0 billion in the business over the next three years.
The combined entity would have ~127.0 million subscribers and would intensify the competition with the top two wireless carriers in the country, Verizon (VZ) and AT&T (T).
Check out all the data we have added to our quote pages. Now you can get a valuation snapshot, earnings and revenue estimates, and historical data as well as dividend info. Take a look!