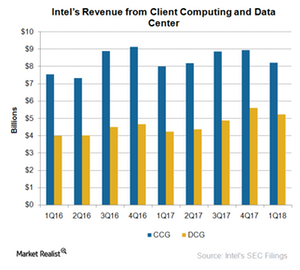 Intel's Transformation Changes PC and Data Center Product Mix
Intel's business transformation
Intel's (INTC) transformation to becoming a data-centric company picked up pace in 2H17 with its data center earnings coming close to its PC earnings. The revenue contribution of Intel's CCG (Client Computing Group) fell from 56% in 1Q17 to 52% in 1Q18 while that of the DCG (Data Center Group) rose from 30% to 33%. Similarly, CCG's contribution to the company's operating income fell from 78% to 58%, while that of DCG rose from 39% to 54% during the same period.
Article continues below advertisement
Intel's Client Computing Group
Intel's CCG revenue rose 2.8% YoY (year-over-year) to $8.2 billion in fiscal 1Q18 driven by strong demand from the high-margin Commercial and Gaming Enthusiast segments. According to Gartner, global PC shipments fell 1.4% YoY in 1Q18. Despite this, Intel posted YoY growth due to a 7% YoY increase in desktop ASP (average selling price) and a 4% increase in notebook shipments. The growth in notebook shipments came as Intel launched its i9 processors for laptops in 1Q18.
Rival Advanced Micro Devices (AMD) also witnessed strong growth in the PC business as it entered the high-margin notebook segment with its Ryzen Mobile processors, which improved its overall ASP.
Intel's operating margin from CCG fell from 37.9% in fiscal 1Q17 to 34% in fiscal 1Q18 due to the high cost of the 10-nm (nanometer) transition and increasing mix of low-margin modem chips.
The company started initial production on the 10-nm node, but it pushed back volume production on the node to 2019 due to yield issues. To fill the gap from the delay, the company announced another upgrade to its 14-nm node, under which it would launch Whiskey Lake processors for clients and Cascade Lake processors for data center at the end of 2018.
Article continues below advertisement
Intel's Data Center Group
Intel's DCG revenue rose 24% YoY to $5.2 billion in fiscal 1Q18 driven by strength across all DCG segments. This was visible from a 16% YoY growth in data center unit shipments. The cloud segment's revenue rose 45% YoY to a record $2 billion, becoming the largest segment in DCG. The communications service provider segment's revenue rose 33% YoY as carriers opted for IA-based solutions to virtualize their networks in preparation for the 5G transition.
The adjacent revenue saw 16% growth as Intel expanded its reach beyond server CPUs (central processing units) to include a complete rack scale consisting of networking products like Ethernet and Fabric, Silicon Photonics, 3D XPoint memory, and accelerators for AI (artificial intelligence) workloads.
Intel also saw growth in the enterprise segments as customers preferred hybrid and on-premise infrastructure investments. The demand was also high in the high-performance computing segment, driving data center ASP up 7% YoY.
Strong unit shipments and ASP improved DCG's operating margin from 35.5% in fiscal 1Q17 to 49.7% in fiscal 1Q18. The company expects the strong demand in DCG to continue in 2Q18. Next, we'll look at other segments of Intel's data-centric business.
Check out all the data we have added to our quote pages. Now you can get a valuation snapshot, earnings and revenue estimates, and historical data as well as dividend info. Take a look!