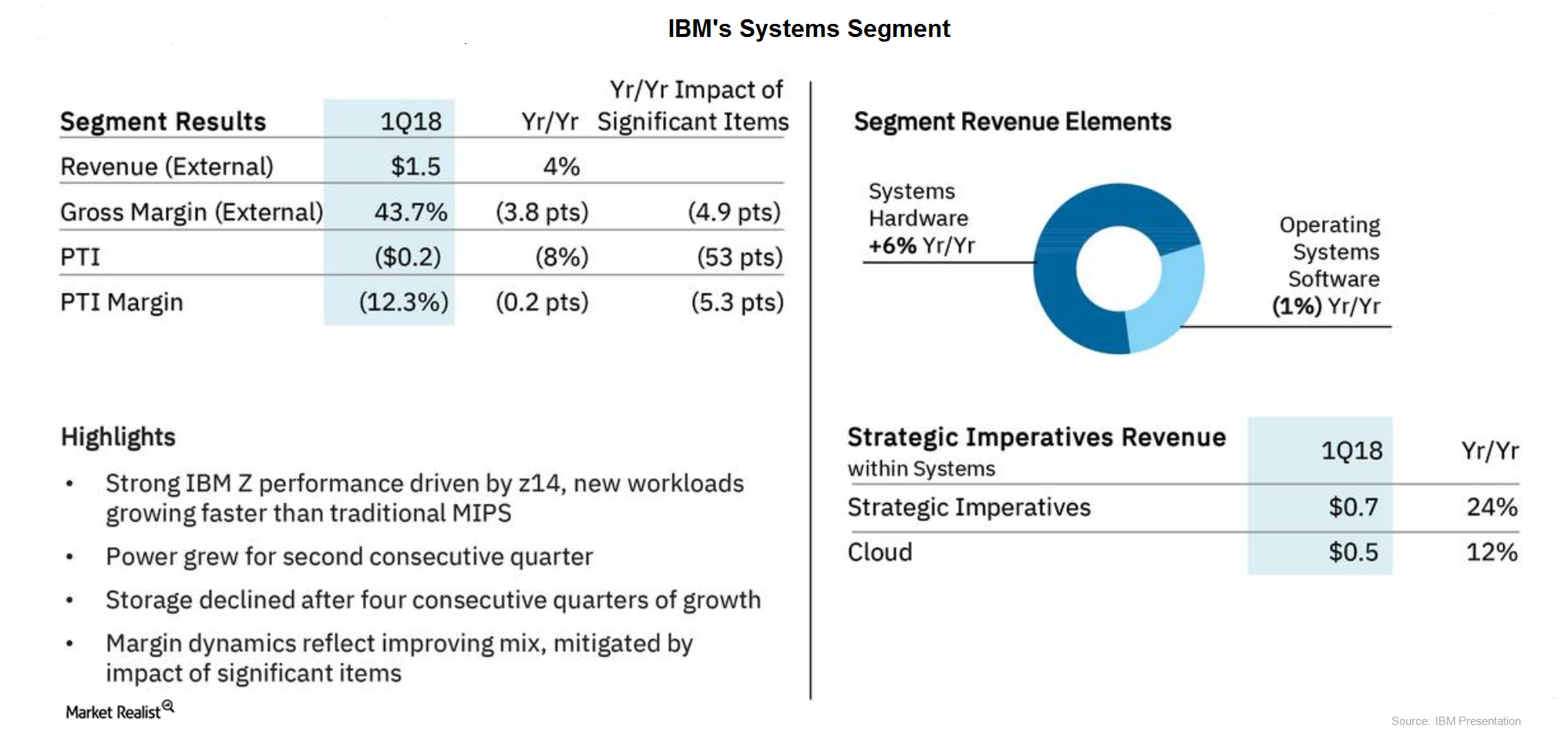 How IBM's Mainframe Business Impacted Its Systems Segment
By Anne Shields

May. 2 2018, Published 11:25 a.m. ET
IBM's mainframe business growth momentum continued
Earlier, we discussed IBM's (IBM) dominance in the blockchain technology space, in which it has the maximum number of patents. 
In this article, we'll look into IBM's Systems segment, which encompasses OS (operating system) software and hardware, power systems, mainframes, and storage.
IBM's Systems segment's revenue rose 4% to $1.5 billion in 1Q18, boosted by momentum in the next generation of its Z system, the z14 mainframe, power, and server market growth. The segment has been reeling under the pressure of revenue decline for a long time. 1Q18 marked the second straight quarter of revenue growth for this segment.
In 1Q18, IBM Z system grew 54% on a YoY (year-over-year) basis, indicating that the momentum was continuing for the company's mainframe business. In 4Q17, IBM's mainframe business recorded 71% growth, which pushed its total revenue ~1% higher.
Article continues below advertisement
Mainframe refresh cycle
During its 2Q17 earnings release in July 2017, IBM announced the next generation of its z system, the z14 mainframe. Its predecessor, the z13 mainframe, was last refreshed in 2015. IBM's mainframe line-up gets refreshed every few years. Each new mainframe refresh triggers upgradation, which creates a surge in mainframe sales that often lasts a few quarters.
After the initial increase, mainframe sales start to fall or stagnate, which lasts until the next refresh, and then this process starts over again.
The first full quarter for the z14 mainframe was 4Q17. Looking at the product cycle refresh history, we can see that it's likely mainframe sales will continue to grow in the current quarter. However, they're likely to fall in 2H18.
IBM doesn't disclose mainframe sales figures, so it's tough to ascertain whether this business is growing or shrinking. The company provides YoY growth information each quarter.