How HPE's Acquisition of Plexxi Could Affect VMware
Plexxi's acquisition has given HPE access to networking, which is considered crucial to enterprise cloud infrastructure.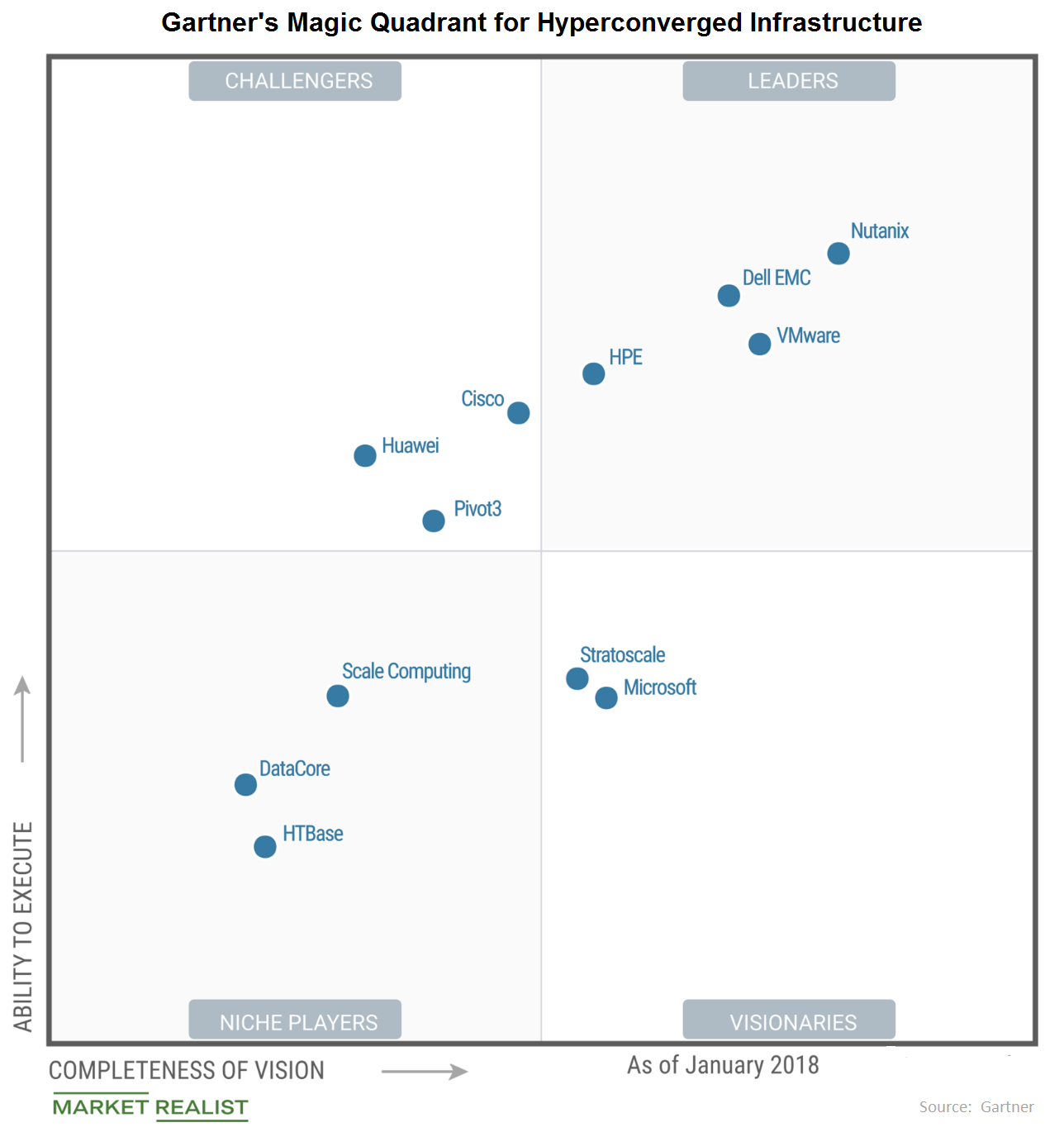 HPE increases its position in the SDN space
Earlier, we discussed Hewlett Packard Enterprise's (HPE) acquisition of Plexxi and its impressive growth in the HCI (hyperconverged infrastructure) space. Plexxi's acquisition has given HPE access to networking, which is considered crucial to enterprise cloud infrastructure.
Enterprises require networking to connect data and applications in data centers and the cloud with users and IoT (Internet-of-Things) devices located in offices and other workplaces. Several companies are expanding into the SDN (software-defined networking) space.
Article continues below advertisement
Article continues below advertisement
SDN helps companies save on costs and provides more flexibility since companies are required to virtualize their networks instead of spending on dedicated fixed hardware. With SDN, customers have control over their networks—irrespective of them being public, private, or hybrid—from a centralized location. They are not required to replace their existing hardware, and they don't have to manage multiple routers. As a result, new carriers have emerged, adding value to elementary connectivity offerings.
Earlier this month, Nutanix (NTNX) expanded its reach from being just an HCI provider by adding SDN and cloud application management tools to its product portfolio.
vSAN is the success behind VMware's leadership in the HCI space
Following its VeloCloud acquisition in December 2017, in May, VMware announced its Virtual Cloud Network strategy to connect the edge to the branch office to the data center and cloud. VeloCloud's acquisition not only gave VMware an entry into the SD-WAN (software-defined wide-area network) space but also positioned it alongside Cisco Systems (CSCO), the top player in the SD-WAN space.
The above presentation by Gartner includes VMware in the Leaders category alongside HPE, Nutanix, and Dell EMC. vSAN (virtual storage area network) technology enabled VMware to debut in the Leaders category, and it's one of the only software-only vendors in the quadrant.
HPE's acquisition of Plexxi increases competition in the HCI space and poses a threat to all leading players in the space, including VMware.
Since its inception in 2010, Plexxi has developed specialized software for VMware that enables businesses to route applications and not physical infrastructure, lessening the need for network switches and routers. It remains to be seen how the relationship and collaboration between Plexxi and VMware will fare.
vSAN is one of VMware's crucial software-defined offerings and forms the core pillar of HCI, including NSX. According to TechTarget, VMware provides the most commonly used HCI software with the vSphere stack, whose core contains vSAN.
In fiscal Q4 2018 and fiscal 2018, VMware's vSAN-licensed bookings grew 100% and 130%, respectively, on a year-over-year basis. Based on its fiscal Q4 2018 annualized total bookings, vSAN hit a $600 million run rate.