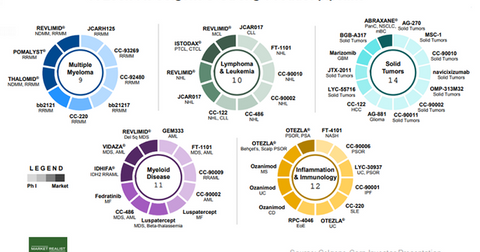 Exploring Celgene's Promising Research Pipeline
By Kenneth Smith

Updated
Research pipeline
Celgene's (CELG) research pipeline includes multiple clinical development programs in the disease areas of hematology, solid tumors, and inflammation and immunology.
Revlimid is in multiple Phase 3 trials for a range of hematological malignancies, which include multiple myeloma and lymphomas. Within hematological malignancies, Pomalyst is in multiple Phase 3 and post-approval trials for relapsed or refractory multiple myeloma.
Under solid tumors, Abraxane is in various stages of investigation for pancreatic and non-small cell lung cancers.
Otezla, which is included in the inflammation and immunology category, is under evaluation in Phase 3 trials for Behcet's disease and scalp psoriasis. Otezla is also being studied for the treatment of ulcerative colitis, psoriatic arthritis, and plaque psoriasis.
Article continues below advertisement
Celgene also has a growing number of potential products in Phase 3 trials for multiple diseases. In inflammation and immunology, the company completed a Phase 3 trial for ozanimod in relapsing multiple sclerosis (or RMS). It also has a Phase 3 trial for ulcerative colitis and a Phase 3 program for Crohn's disease for ozanimod.
In the hematology category, Celgene is conducting a Phase 3 trial for CC-486 in myelodysplastic syndrome (or MDS) and acute myeloid leukemia. It's also evaluating luspatercept in a Phase 3 trial for MDS and beta thalassemia.
BeiGene collaboration
Celgene entered into a collaboration with BeiGene Limited for advancing the BGB-A317 program, which is targeted at solid tumor cancers. In 1Q18, BeiGene initiated a Phase 3 trial for BGB-A317 in hepatocellular carcinoma (or HCC).
Celgene also has access to an increasing number of early to mid-stage pipelines of novel potential therapies. These potential therapies consist of new drug candidates and cell therapies that are developed in-house, licensed from other companies, or under development under the collaboration. The company expects the depth of its product pipeline to provide the catalysts for future growth.
In the next part of this series, we'll take a look at Celgene's financial performance.