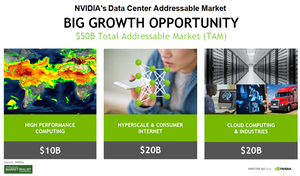 Data Center: A $50 Billion Market for NVIDIA
NVIDIA's Data Center segment
So far in this series, we've seen that NVIDIA (NVDA) is expanding the reach of AI (artificial intelligence) and DL (deep learning) across various verticals such as gaming, HPC (high-performance computing), autonomous vehicles, and industries such as healthcare and manufacturing. All these verticals are applications that have adopted accelerated computing for their AI and DL workloads.
At its Investor Day 2018, NVIDIA's senior vice president of Enterprise Business, Shankar Trivedi, stated that revenues from NVIDIA's Data Center segment have grown from just $340.0 million in fiscal 2016 to $1.9 billion in fiscal 2018.
Article continues below advertisement
Growing demand for accelerated computing and applications encouraged NVIDIA to increase its data center TAM (total addressable market) from the previous estimate of $30.0 billion by 2020 to $50.0 billion by 2023. This $50.0 billion TAM would primarily come from its three major segments of HPC, Hyperscale and Consumer Internet, and Cloud and Industries.
High-Performance Computing segment
Trivedi stated that almost every government and public sector in the world—Europe, the United States, Japan, India, Taiwan, and Canada—are investing in HPC and AI. Given the increasing investment in HPC, NVIDIA expects this segment to reach $10.0 billion by 2023.
Of this $10.0 billion, 50.0% is expected to come from exascale computers. This estimate is based on the assumption that all computers in the top 500 list would be exascale. At present, these supercomputers are petascale, and the first exascale computer is expected to be deployed in 2021 or 2022. The remaining opportunity is expected to come from modeling and simulation.
Article continues below advertisement
Hyperscale and Consumer Internet segment
Trivedi stated that NVIDIA estimates the Hyperscale and Consumer Internet segment to present a $20.0 billion market opportunity. This estimate comes as consumer Internet companies such as PayPal (PYPL), eBay (EBAY), and Paytm are offering AI features such as recommendation engines, credit scoring algorithms, fraud detection training, and inferencing algorithms.
In addition to Internet companies, large companies such as SK Telecom and China Mobile are offering AI-enabled speakers and AI-enabled assistants. Larger companies, as well as small companies with large data sets, are using the NVIDIA platform, as it offers cuDNNs (deep neural networks) and TensorRT inferencing software that eases the deployment of GPUs for AI.
Cloud and Industries segment
NVIDIA expects the Cloud and Industries segment to present a $20.0 billion market opportunity by 2023. The company expects three industries—healthcare, transportation, and manufacturing—to present the largest growth. Within the cloud, the company expects many startups and small companies to use GPU cloud services for their AI needs. Moreover, cloud companies are using accelerated computing for their internal AI workloads as well.
Next, we'll look at NVIDIA's strategy to tap this data center opportunity.
Check out all the data we have added to our quote pages. Now you can get a valuation snapshot, earnings and revenue estimates, and historical data as well as dividend info. Take a look!