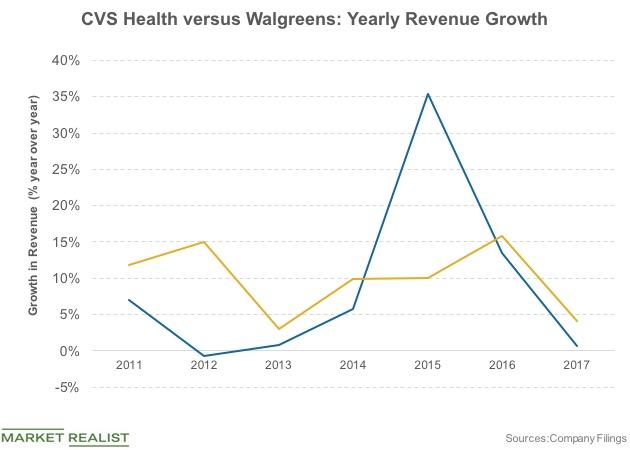 CVS Health and Walgreens: Financial Health
By Sonya Bells

May. 30 2018, Updated 1:22 p.m. ET
Top-line growth through acquisitions
As we discussed in the previous part, 40% of the total prescriptions filled in the United States are either done by CVS Health (CVS) or Walgreens Boots Alliance (WBA). Looking at the specific numbers, Walgreens filled 990 million prescriptions in fiscal 2017, while CVS filled 1.1 billion prescriptions.
Both of the companies have grown their top lines at a steady pace, although acquisitions fueled part of the growth. CVS acquired Caremark in 2007 to mark its entry into the PBM space. Walgreens merged with Alliance Boots in 2014 to form Walgreens Boots Alliance.
Article continues below advertisement
CVS's recent top-line performance
CVS recorded total sales of $186 billion (+4% YoY) in the last 12 months. The Pharmacy Services segment was the company's biggest moneymaker and accounted for 71% of its sales. The segment's sales increased 7.5% during this period due to the higher volume in its pharmacy network claims, brand inflation, and specialty pharmacy growth.
The Retail/LTC segment, which accounts for the remaining portion of CVS's top line, recorded 0.2% sales growth in the last 12 months. An increase in the generic dispensing rate and reimbursement pressures pulled the comps into the red. The segment also took a hit when Prime Therapeutics and Tricare partnered with Walgreens Boosts Alliance instead of CVS. The company ended up losing 40 million prescriptions due to the network exclusion following these two deals.
Walgreens' performance
Walgreens clocked sales of $124 billion (+6.8% YoY) in the last 12 months. The company's retail pharmacy business in the United States, which generates more than 70% of its total sales, was the fastest-growing business segment. The sales improved 8.8% in the last 12-month period due to the acquisition of Rite Aid stores and a higher prescription volume.
However, Walgreens' international segment, which includes retail pharmacies and wholesale businesses, have done average business. While the retail pharmacies' international sales fell 0.7%, the pharmaceutical wholesale revenue increased 0.3% in the last 12 months.