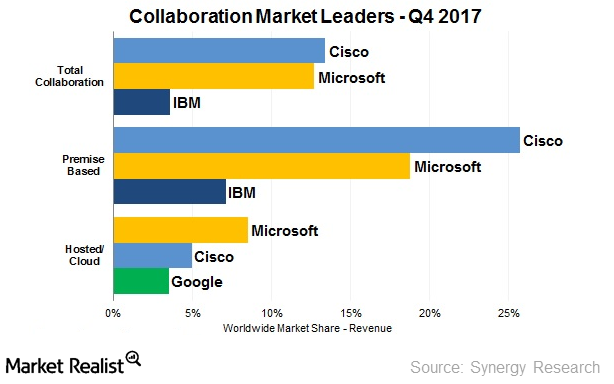 Cisco Led the Enterprise Collaboration Market at the End of 4Q17
Cisco edges out Microsoft to lead the collaboration market
According to Synergy Research, Cisco Systems (CSCO) has maintained a slender lead over Microsoft (MSFT) in the enterprise collaboration market. Cisco Systems has a market share of ~13.0% in the collaboration space, compared to 12.0% for Microsoft.
Synergy Group stated that while Cisco's market share in collaboration remained stable during each quarter in 2017, Microsoft managed to increase its share during the year. Cisco's market share was 1.0% higher than that of Microsoft in the first three quarters of 2017. This difference was less than 1.0% in 4Q17.
Article continues below advertisement
The other top players in the collaboration space include IBM (IBM), Avaya, Google (GOOG)(GOOGL), AT&T (T), Verizon (VZ), Polycom, and UNIFY. Cisco leads the overall collaboration market, as it has a share of ~25.0% in premise-based solutions and has achieved revenue growth in the hosted and cloud verticals.
Microsoft, on the other hand, leads the high growth hosted/cloud collaboration market. This market is a fragmented one, with several players where the leader has a share below 9.0%.
Collaboration revenues almost touched $10 billion in 4Q17
According to Synergy Research's report, collaboration revenues include several verticals such as enterprise voice, UC applications, email software, enterprise content management, telepresence, enterprise social networks, and several hosted/cloud communication applications.
Revenues rose to an all-time high in 4Q17 and stood just below $10.0 billion. Revenues from hosted/cloud solutions rose 26.0% YoY (year-over-year) in 4Q17. Revenues from premise-based systems fell 4.0% in the quarter ended December 2017.
Teamwork applications drove demand with emerging areas such as cloud/hosted email, cloud file sharing, and CCaaS (contact-center-as-a-service).