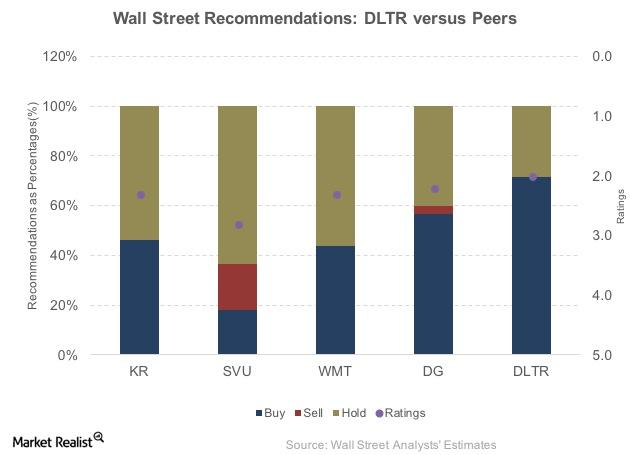 Can First-Quarter Results Help Dollar Tree Recover Losses?
By Sonya Bells

Dec. 4 2020, Updated 10:53 a.m. ET
Dollar Tree's stock market performance
Dollar Tree (DLTR) delivered a stellar performance in the stock market in 2017. Its stock soared as much as 40% during the year, as the company delivered better-than-expected results every quarter.
However, its fortunes changed after the fourth-quarter results, which it reported in early March. The company missed expectations and lowered guidance, which caused its stock price to plunge 17%. DLTR hasn't been able to come out of the red since then and is sitting on a YTD (year-to-date) loss of ~12%. Maybe a strong first quarter is all that the company needs to get back into the green.
Article continues below advertisement
Wall Street is positive on DLTR
The Wall Street is optimistic about Dollar Tree and expects a 19% surge in its stock price over the next year. DLTR is currently trading at $94.65, 22% below its 52-week high price.
The company is rated a 2.0 on a scale of one (strong buy) to five (strong sell). It has a slightly better rating than competitor Dollar General (DG), which is rated a 2.2. The two discount store retailers have a better score than supermarket Kroger (KR) and retail giant Walmart (WMT), which both have scores of 2.3.
71% of the 28 analysts tracking Dollar Tree rate its stock as a "buy." In comparison, 57% of analysts recommend buying Dollar General, 44% recommend Walmart, and 46% recommend Kroger stock. The remaining 29% of analysts have set a "hold" rating on DLTR. There are no "sell" recommendations on the discount retailer.
Valuations
Dollar Tree is currently trading at a one-year forward price-to-earnings ratio of 16.6x versus a three-year average of 20x. Dollar General (DG) is trading at similar valuations of 15.8x versus a three-year average of 17x. Thus, both companies are currently cheaper than their historical average.
However, Dollar General has the better near-term earnings potential of the two. Its earnings are projected to rise 32% over the next 12 months. In comparison, Dollar Tree's profits are expected to increase 15.8% over the same period. Lower effective tax rates following the implementation of the Tax Cuts and Jobs Act will likely drive the earnings of both the companies.