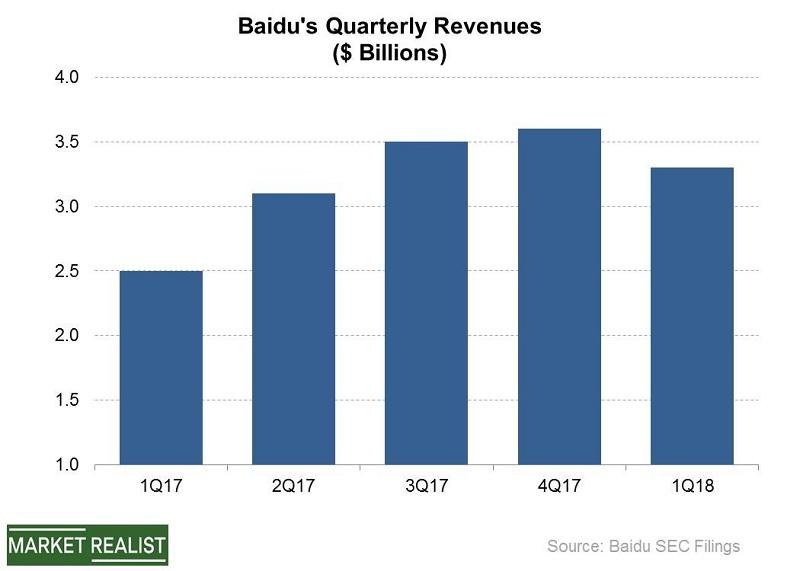 Alibaba and Tencent Should Watch Out for Baidu
Finance unit being renamed Du Xiaoman Financial
Baidu (BIDU) is selling a majority stake in its financial services unit as it seeks to raise funds to bolster its competition in China's digital financial services market. Alibaba (BABA) and Tencent (TCEHY) are currently the leading providers of digital financial services in China, with iResearch China estimating that Alibaba's Alipay commands ~54% of China's mobile payment market.
Baidu is selling a stake of roughly 58% in Baidu FSG (Financial Services Group) to a group of institutional investors for $1.9 billion. As part of the deal, Baidu FSG is being renamed Du Xiaoman Financial, and Baidu will retain a stake of ~42% in the business.
Article continues below advertisement
Baidu's finance unit does lending
In addition to processing payments, Baidu's finance unit also supplies loans and offers asset management services. Alibaba and Tencent offer similar services and more through their respective finance arms or affiliates.
Closing the gap with competitors and diversifying revenue sources
The capital injection from the sale of a stake in its finance unit could help Baidu accelerate closing the gap with its rivals Alibaba and Tencent. Baidu's growing in the digital financial services market could further contribute toward the diversification of its revenue sources.
Like Alphabet (GOOGL) and Facebook (FB), Baidu relies on the provision of online advertising services for the vast majority of its revenue, but the online advertising market is so crowded that even Alphabet and Facebook are looking to open new revenue streams beyond advertising.
Baidu's revenue rose 31% year-over-year to $3.3 billion in the first quarter.