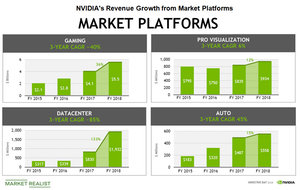 A Look at NVIDIA's Annual Revenue Growth Trends
NVIDIA's annual revenue growth trends
NVIDIA (NVDA) has seen record revenue for the past two years as the advent of AI and eSports set the path for strong double- and triple-digit growth. This revenue growth is expected to continue in fiscal 2019, with several addressable markets to tap and little competition.
Article continues below advertisement
NVIDIA's revenue growth from fiscal 2016 to 2018
NVIDIA's annual revenue almost doubled between fiscal 2016 and fiscal 2018, from $5 billion to $9.7 billion. At NVIDIA's 2018 Investor Day, CFO Colette Kress stated that the company's gaming and data center revenue grew at an average annual rate of 40% and 85%, respectively, between 2016 and 2018.
These two businesses still have strong growth potential. Advanced Micro Devices' (AMD) Vega GPUs (graphics processing units) are not competitive with NVIDIA's gaming GPUs. In fact, NVIDIA's crypto-card sales surpassed AMD's crypto-card sales in fiscal Q1 2019, despite the latter's GPUs being preferred by crypto miners. In the data center space, NVIDIA raised its total addressable market estimate from $30 billion by 2020 to $50 billion by 2023. NVIDIA's annual revenue rose ~41% in fiscal 2018, compared with ~38% in fiscal 2017.
NVIDIA's fiscal 2019 
As NVIDIA expects crypto-card sales to fade in the second quarter of fiscal 2019, it reported slightly weaker revenue guidance for the quarter. However, analysts are bullish on NVIDIA due to its strong growth potential in gaming and AI, and expect this growth to offset weakness in crypto-card sales.
NVIDIA is set to report another record earnings year in fiscal 2019. Next, we'll see what investors can expect from NVIDIA in future quarters.
Check out all the data we have added to our quote pages. Now you can get a valuation snapshot, earnings and revenue estimates, and historical data as well as dividend info. Take a look!