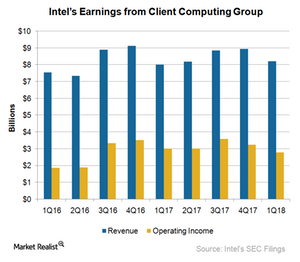 A Look at Intel's Operating Efficiency
Intel's operating efficiency
Intel's (INTC) gross margin is declining, as the delay in volume production of the 10-nanometer process node has increased its production costs. However, Intel is compensating for this increased cost by reducing its operating expense. Over the past four quarters, Intel reduced its operating expenses in the low to mid single digits on a YoY (year-over-year) basis.
In fiscal 1Q18, the company reduced its non-GAAP (generally accepted accounting principle) operating expense by 3.7% YoY to $5.2 billion. In the last four quarters, the company improved its efficiency by generating additional revenue of $1.3 billion by spending $200 million less.
Article continues below advertisement
Operating ratios
Intel's operating expense ratio fell from 36.5% in 1Q17 to 32.4% in 1Q18 as its revenue increased and spending decreased. This four-percentage-point decline in spending improved the company's non-GAAP operating margin by 3.5 percentage points from 26.4% in 1Q17 to 29.9% in 1Q18. The operating margin improvement was slower than the spending decline because of a one-percentage-point decline in gross margin.
Intel's operating efficiency is lower than that of NVIDIA and Advanced Micro Devices (AMD). AMD spends 27% of its revenue on operating expenses, whereas NVIDIA (NVDA) spends 21% of its revenue on operating expenses. Intel spends 32% of its revenues on operating expenses, as it spends more on research and development.
For fiscal 2Q18, Intel expects its operating margin and operating expense ratio to remain sequentially flat at 30% and 32%, respectively.
Article continues below advertisement
Intel's previous target was to reach an operating expense ratio of 30% by 2020, which was reduced to 2019 in January 2018. Given the speed at which the operating efficiency is improving, the company now expects to achieve this target two years ahead of schedule in 2018. Despite an estimated decline in operating expense by two percentage points, Intel expects its full-year 2018 operating margin to remain flat at 31% on a YoY basis.
EPS
Intel's non-GAAP EPS (earnings per share) rose 32% YoY to $0.87 in fiscal 1Q18, beating analysts' estimate of $0.72. The EPS growth was driven by 9% YoY revenue growth, a four-percentage-point decline in spending, a 3.5-percentage-point improvement in operating margin, and a 10.6-percentage-point decline in tax rates.
The company expects these factors to increase its fiscal 2Q18 EPS 18% YoY to $0.85. It has also revised its full-year 2018 EPS guidance from $3.55 to $3.85. Next, we'll look at the performance of Intel's business segments.
Check out all the data we have added to our quote pages. Now you can get a valuation snapshot, earnings and revenue estimates, and historical data as well as dividend info. Take a look!