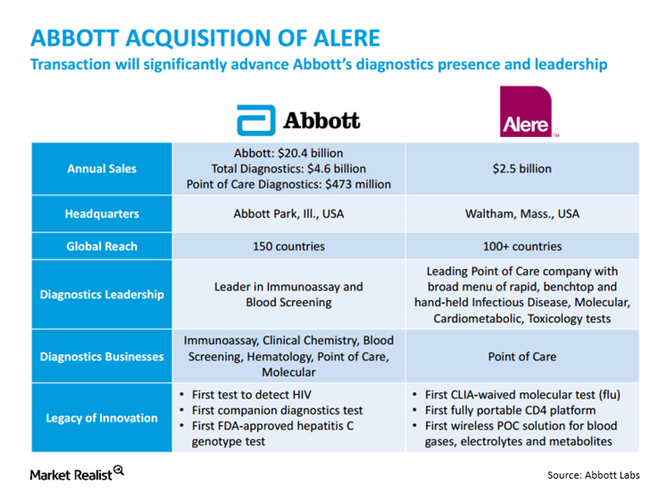 A Brief Look at Abbott's Alere Integration Progress and Recovery
Alere acquisition integration progress
Abbott Laboratories (ABT) completed its acquisition of Alere in October 2017. The company has experienced significant difficulties with the acquisition over the past year. Let's take a look at how the acquisition has progressed. According to Abbott Laboratories, the bulk of the integration work is complete, and the company has established strategies and plans for the Alere business.
The company added that the Alere acquisition's synergies are on track, and the company seems to have benefited from the deal. The highlights of the two businesses at the time of the deal are shown in the diagram below.
Article continues below advertisement
Article continues below advertisement
Alere's business growth drivers
In 1Q18, the Alere business registered significant growth, driven by a strong flu season. According to Abbott Laboratories, 15.0% of Alere's business is seasonal and depends on seasonal trends such as the flu season. The company also reported underlying sales growth across key product lines.
Abbott Laboratories has focused on R&D (research and development) investments in Alere's portfolio toward product improvements. The company believes that Alere has an attractive product portfolio that contains a lot of undermarketed products. Thus, it has a significant commercial opportunity.
Abbott Laboratories expects moderate performance from Alere products over the next few years, as the company is making integration progress and implementing innovation and commercial strategies around Alere's portfolio.
Alere's integration synergies in 1Q18 were delivered through strong performance of the company's Rapid Diagnostics business. The Rapid Diagnostics business generated sales of $559.0 million in 1Q18, where $323.0 million of these sales were generated in the United States. About $236.0 million came from the International Rapid Diagnostics business. These sales were led by infectious disease–testing products in the United States, which had seen an increase in demand due to the prolonged flu season.
Be sure to check out all the data we've added to our quote pages. Now you can get a valuation snapshot, earnings and revenue estimates, and historical data, as well as dividend information. Take a look!