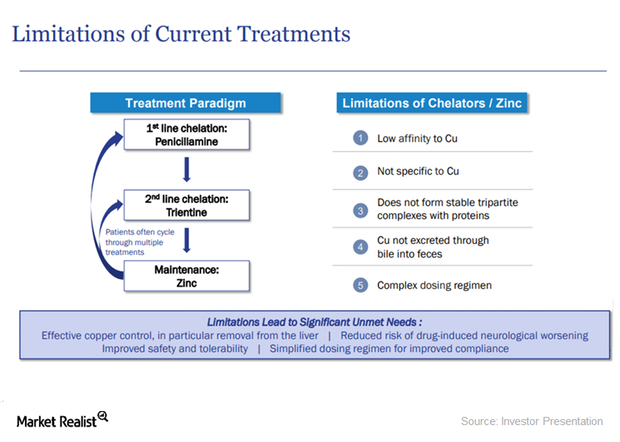 WTX101: A Superior Treatment for Wilson Disease
Wilson disease treatment options
On April 11, 2018, Alexion Pharmaceuticals (ALXN) announced the acquisition of Wilson Therapeutics, which is developing a "first-of-its-kind" treatment for Wilson disease. Currently, Wilson disease is treated with copper chelators, Penicillamine or Trientine, to remove copper from serum. After the copper is removed, patients are put on a zinc dosage regimen to prevent an additional accumulation of copper. However, the therapies haven't successfully removed copper from the liver. Significant and irreversible side effects have been reported in patients. The treatments take about six months to remove the copper. Years of therapy are required to prevent additional copper accumulation.
Article continues below advertisement
Current treatment limitations
Wilson Therapeutics' WTX101 addresses the current treatment limitations for treating Wilson disease. WTX101 has a unique action mechanism. The drug has the potential to become the standard of care for Wilson disease patients. The drug is taken orally once a day, which is a significant benefit over the current treatments' complicated dosing regimens.
The novel "first-in-class" molecule WTX101 builds on the therapeutic potential of TTM (tetrathiomolybdate). Compared to the chelators that are currently available, WTX101 has a 10,000-fold higher affinity for copper. The differentiating characteristic allows direct copper removal from metallothionein and stored copper unloading from the liver. WTX101's high specificity for copper limits other metal-related side effects. The molecule forms tripartite complexes with albumin, which helps reduce the neurological deficits by enabling copper to be transported safely in the blood. The molecule helps excrete excess copper through the natural bile route and limits potential nephrotoxicity.
Check out all the data we have added to our quote pages. Now you can get a valuation snapshot, earnings and revenue estimates, and historical data as well as dividend info. Take a look!