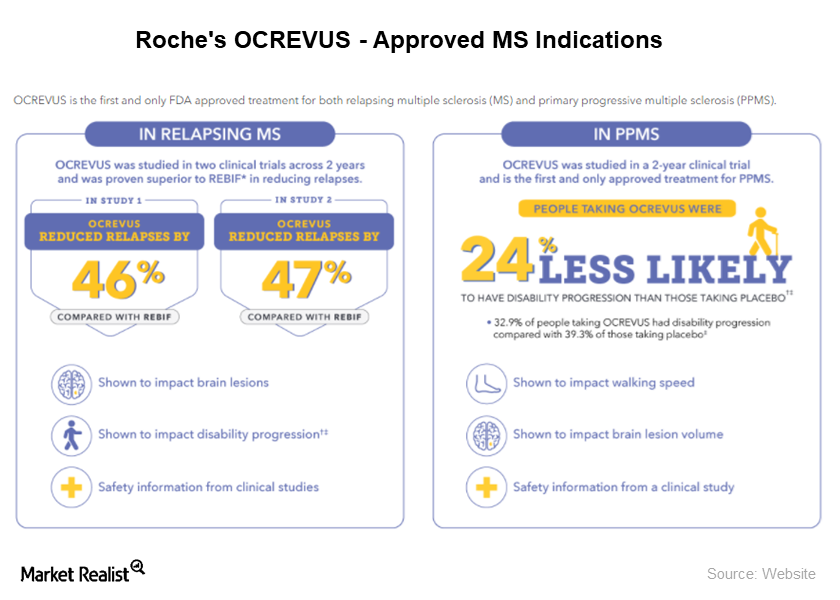 Why NICE Didn't Approve Roche's Ocrevus for Multiple Sclerosis
Overview
On April 5, 2018, Roche's (RHHBY) MS (multiple sclerosis) drug Ocrevus was denied recommendation by NICE (National Institute for Health and Care Excellence) in England for the treatment of relapsing forms of MS in adults.
Ocrevus was approved by the FDA for the treatment of adult patients suffering from relapsing-remitting MS or a primary progressive form of MS, which is more difficult to treat. The drug is the only approved therapy for the primary progressive form of MS and has given stiff competition to Merck's (MRK) market-leading MS drug Rebif. Roche offered the drug at a 25% discount to Rebif. It is expected that Roche might consider a similar strategy in England and reduce the price.
Article continues below advertisement
NICE considered Ocrevus price unacceptable
According to the guidance provided by NICE, which rejected Roche's Ocrevus recommendation, "The most plausible cost-effectiveness estimates for ocrelizumab compared with all relevant comparators are higher than those NICE normally considers an acceptable use of NHS resources."
Ocrevus, however, reported strong results from its Phase 3 trial of Ocrevus for MS treatment and has captured one of the leading market positions in the competitive MS space.
According to a recent analysis, which included results from two Phase 3 clinical trials, OPERA I and OPERA II, Roche's Ocrevus was found to be more effective than Merck's Rebif. However, analysts recommended long-term studies to determine if Ocrevus has long-lasting benefits over Rebif.
Be sure to check out all the data we've added to our quote pages. Now you can get a valuation snapshot, earnings and revenue estimates, and historical data, as well as dividend information. Take a look!