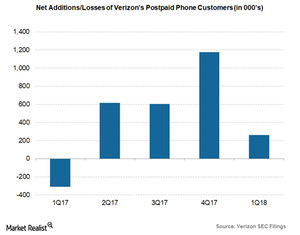 Verizon's Customer Base in 1Q18
By Sophia Nicholson

Apr. 26 2018, Updated 7:32 a.m. ET
Verizon focuses on retaining customers
The performance of a mobile carrier's network determines its customer base, and Verizon (VZ) has been making efforts to improve its network in order to keep customers. The largest wireless network provider in the US, Verizon added significantly to its postpaid customers in 1Q18. But the number declined from 4Q17 levels. Verizon lost prepaid customers.
Article continues below advertisement
Verizon adds customers in 1Q18
In 1Q18, Verizon lost 75,000 retail customers. The US telecom company added postpaid phone customers and lost prepaid customers. Verizon added a total of 260,000 postpaid phones customers and lost 335,000 prepaid customers. At the end of March 31, Verizon had a total 116.2 million retail connections, up 2.0% year over year. This total includes approximately 111.1 million postpaid connections, which increased 2.4%, and prepaid connections of 5.1 million, which declined 6.7% YoY.
Out of 260,000 postpaid customers added, Verizon recorded net additions of 359,000 from connected devices such as wearables but posted net phone losses of 24,000 and table losses of 75,000 in 1Q18. Verizon also reported postpaid smartphone net additions of 220,000.
Verizon's total retail postpaid churn rate improved to 1.04% in 1Q18 from 1.15% in 1Q17, mainly driven by consistently low retail postpaid phone churn rate. The company managed to produce retail postpaid phone churn of less than 0.90% in the past 12 consecutive quarters, with the recent quarter's churn rate at 0.80%. This was the fourth straight quarter of retail postpaid phone churn of 0.80% or better.
Stiff competition from rivals
Verizon and the second-largest wireless service provider, AT&T (T), have been facing stiff competition from rivals T-Mobile (TMUS) and Sprint (S) in postpaid phone subscriber additions due to attractive data plans launched by T-Mobile and Sprint. To compete with the smaller rivals, Verizon has launched original unlimited plans for customers. Charter Communications (CHTR) also plans to enter the mobile phone business, and its service plans are expected to launch in the second half of 2018.